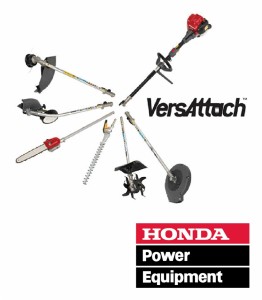 There's a lot of lawn equipment that's great to have on hand, but the jobs they do are limited to a few days or even a few hours per year. Buying a piece of equipment for each task means having more to take care of, and often forces you to sacrifice quality to keep costs down. However, you can get around these problems with Honda's Versattach System. While lawn multitools are nothing new, Honda's collection of powerheads and attachments get around the pitfalls of other systems, giving you an affordable way to get Honda reliability for your less frequent landscaping jobs.
SureLock: An Easier Way to Connect Attachments
Other multitools rely solely on knobs to hold the attachment in place, have driveshafts that need to be lined up, or use pins that are hard to push out when switching tools. Honda's SureLock system avoids these problems, simplifying attachment so you can switch tools easily. Here's how it works:
1. Loosen the joint knob
2. Turn set pin knob 180 degrees.
3. Line up the arrows on the powerhead and the attachment, and slide the attachment into the powerhead shaft until the arrows meet.
4. Turn the set pin knob. If it clicks, the attachment is seated.
5. Tighten the joint knob.
Once that's done, you can be 100% sure the powerhead can drive the attachment and the attachment won't work loose.
Powerheads
Attachments are driven by a powerhead. This unit has an engine, throttle control and a short shaft with a SureLock connector. The difference between the two powerheads comes down to engines: the UMC425 uses a GX25, while the UMC435 has a more powerful GX35. Both engines are Honda Mini 4 Strokes. They can be used in any position like a two-stroke, but they don't need mixed gas, are easier to start and have a wider powerband.
Attachments
Honda offers 6 attachments to cover lawn care jobs that would normally require rarely-used specialty equipment.
Trimmer: This string trimmer uses a two-line bump feed head and cuts a 16.5-inch wide swath. It can also be used with an optional three tooth grass blade for heavy brush, or use a variety of aftermarket heads by installing an adapter.
Hedge Trimmer: This attachment comes with a double-sided reciprocating blade that is 21.6 inches long. A joint at the end of the shaft allows the blade to be tilted a total of 108 degrees in 18-degree increments so you can get the perfect cut while maintaining a comfortable hand position. The trimmer is available with either a 5.3 inch or 25-inch shaft.
Edger: This attachment uses a standard 9 x 2-inch blade to cut clean edges around pavement and landscape transitions. A metal anti-wear strip protects the gearbox, while a wrap-around blade guard shields the operator from debris.
Cultivator: This mini tiller attachment has tines that are 9.4 inches in diameter and cut a path that's 6.5 inches wide. With the engine at full throttle, the tines spin at 233 rpm.
Pruner: A 12-inch bar makes quick work of branches, while the 25-inch shaft gives you enough reach for most bushes and small trees. The oil reservoir is translucent, making it easy to check the level and keep the chain lubricated.
Blower: A long shaft, compact fan, and narrow exit make this attachment perfect for skimming across the ground, blowing up loose debris or lifting up layers of wet, matted leaves. Maximum output will vary depending on your powerhead: the UMC425 can drive this attachment to a maximum of 184 mph and 235 CFM, while UMC435 can drive it to a maximum of 235 mph and 250 CFM.
Extensions: Available in 19 and 39 inches, these extensions give you more reach when hedge trimming or pruning.
Warranty
Honda guarantees the powerheads, engines, and attachments for 36 months of residential use or 24 months of commercial use.
Need Something for Your Honda Equipment?
Hondalawnparts.com is more than a website: we're a certified Honda Engines and Honda Power Equipment dealer, so we're able to offer the same OEM parts and accessories you get at brick and mortar dealers. Better still, we have most items in stock and we ship across the U.S. and Canada. Our website can show you factory parts diagrams and descriptions specific to your model, making it easy to find just what you're looking for.