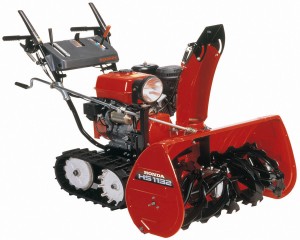 How powerful can a walk-behind snowblower be? Honda's biggest two-stage models don't just have augers that can cut through large snow drifts, they have the power to move even the heaviest accumulation. The HSS928 and it's high-powered stablemate, the HSS1332, deliver the performance, reliability and pragmatic design demanded by professionals. In some cases, they may be able to replace small tractor-powered snowblowers, providing the same clearing power without the added expense, complexity or maintenance of a PTO-driven unit.
HSS928
The 928 is powered by a GX270. These commercial engines come with an automatic decompression system, making it easy to start, even in extreme cold. The HSS928ATD and HSS928AWD come with an electric starter powered by an onboard battery, so there's no need to find an outlet to get the engine running.
A heavy-duty serrated auger busts through ice and hard pack snow, picking up snow as high as 21.7 inches in strips up to 28 inches wide at a rate of up to 1,900 lbs. per minute. The auger housing rides on reversible skid shoes, while a small LED headlight mounted next to the chute helps with visibility. Maximum throwing distance is 52 feet. The chute has 198 degrees of rotation and its angle and pitch can be controlled with an electric joystick located next to the handles.
This line of snowblowers uses a hydrostatic drive system with independent control of the drive wheels, helping to both move and turn the snowblower. Once the snowblower is lined up for a pass, the levers can be locked to provide equal power to both wheels using one hand, leaving the other hand free to make adjustments to the controls.
Both the HSS928AW and AWD ride on 14-inch pneumatic tires with a new tread pattern designed for grip on slick surfaces. This is a great choice for use on flat surfaces like parking lots. For owners who need to deal with slopes, The HSS928AT and ATD come with a track drive system paired with an auger height control system supported by pneumatic strut for smooth adjustment. By lowering the auger, it can dig into hard packed snow that other snowblowers would drive over.
HSS1332
The 1332 is powered by a GX390, which is simply a larger version of the GX270. The size of the main auger remains the same, but the added power from the bigger engine lets these snowblowers move up to 2,750 lbs. per minute, making it a good choice if you regularly deal with slushy or hard pack snow. The HS1332ATD includes an electric starter along with an hour meter and auger lock indicator. Honda only sells the HSS1332 with the track drive system.
Warranty
Honda covers these snowblowers and their engines for 3 years of residential or commercial use.
Maintaining and Repairing Honda Snowblowers
Whether you have a small single stage model or a large commercial two stage blower, you can get everything you need for your Honda at www.hondalawnparts.com. As a certified dealer for Honda Engines and Honda Power Equipment, we're able to provide OEM replacement parts for everything on your equipment, and we can ship your order to any location in the U.S. or Canada.