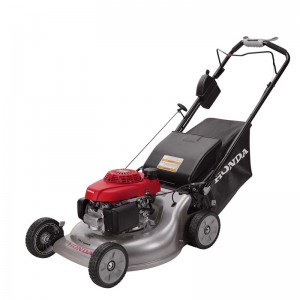 Looking to buy a Honda walk behind mower? With over a dozen models to choose from spread over three ranges, picking the right one can be confusing. Here's what you need to know to find the right mower for your needs.
Honda's Naming Scheme
Honda has four model lines for walk behind mowers: the HRC, HRS, HRR, and HRX. Models within these lines are labeled using three letters that end in "A" like PKA and HZA, based on equipment. Some model names are used for multiple lines. To make this guide less confusing, the model, line, or a combination of the two will be mentioned as it applies to features.
Drive
Push: PDA and PKA
Single speed: SKA
Smart Drive: All HRR models except the PKA have a switch on the handle that lets you select the drive gear.
Select Drive: Used on all HRX models except the HYA and HZA, this drive system uses a knob to adjust the drive speed exactly where you want it. The mower will move that speed whenever you engage the drive handle.
Cruise Control: Used on the HRX, HYA, and HZA. These models use a hydrostatic transmission that lets you adjust the mower's speed while in motion.
Engine
All mowers use a Honda GCV-Series engine. This is a commercial grade motor found in everything from mowers to pressure washers.
HRS and HRR: GCV160
HRX: GCV190
Cutting Modes
HRX: 4 in 1
These mowers are set up to bag, mulch, and discharge clippings at the side of the deck. They also have a special cutting mode for chopping leaves.
HRR: 3 in 1
These mowers can bag, mulch, and discharge.
HRS: Can discharge or mulch clippings.
HRC: Built to mulch and bag with the option of adding side discharge
Starting
Electric start is available on the HRR VLA, HRX VLA and HRX HZA. This system is self-charging, so there's no need to plug the mower into an electrical outlet before starting.
Blades
Honda's MicroCut Twin Blade system uses two blades to cut grass twice with the first pass and cut faster during each additional pass, letting it mulch wet and thick grass that would clog other mowers. These blades are optional on the HRS and standard on all other models.
The HRX VYA, HYA, and HZA come with Honda's Roto-Stop system. The blade is attached to the motor shaft via a clutch. This clutch can be disengaged to let you step away from the mower without shutting off the engine or when you need to stop the blade while moving over hazardous areas like gravel driveways.
Speed
SKA models have a maximum speed of 2.5 MPH. All other self-propelled models have a maximum speed of 4 MPH.
Clipping Capacity
HRX models have a 2.5 bushel bag capacity, while other bagging models have a 1.9 bushel capacity.
Deck
HRX models use a NeXite composite deck for added durability. All other models use a deck stamped from 16 gauge steel.
HRS models have a deck that adjusts to a mowing height between 1 and 3.5 inches, HRR models can mow at heights between 1.125 and 4 inches, and HRX models can mow between 0.75 and 4 inches.
Warranty
HRS and HRR models have a 36 month warranty on all parts for residential owners. HRX models are guaranteed for 60 months for the mower and engine when used by residential owners, while the deck has a lifetime guarantee. If used for commercial or rental use, all mowers are guaranteed for three months.
Where to Get Parts for Your Honda Mower
www.hondalawnparts.com is a certified dealer for Honda Small Engine Equipment, carrying everything you need for mowers to motors. Finding OEM parts is easy thanks to built-in factory parts diagrams that let you see exactly what you're ordering, and we can ship your order to any address in the U.S. and Canada.