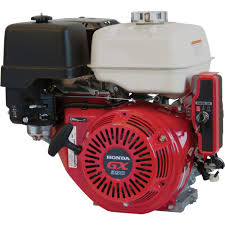 How does Honda develop their world-renowned small engines? It takes an effort spread across research and development facilities across the globe. Borrowing design tools, materials and other developments across the company, engineers both here and abroad work to make sure that each engine fits their applications and each application fits their engines, even if they aren't made by Honda.
Developing Engines Hand-in-Hand with Applications
Honda introduced their first general purpose engine just 5 years after opening their doors, and they started making waves in 1954 with its follow-up, the four-stroke T-type. In a market dominated by two strokes and big diesels, this engine stood out for its ease of use. It was first used in backpack sprayers shipped to Brazil, but the engine would find its true place in the domestic market. With more people heading to Japan's cities to find work, farmers needed a way to do more work with less manpower. Demand for labor-saving devices skyrocketed, leading Honda to start building their own small-scale farming equipment.
From that point forward, the small engine division and the power equipment division were linked. While other engine manufacturers acted independently, Honda was able to find and address issues in their engine designs by developing them side-by-side with equipment. This can be seen in their entry into two markets: compact generators and lawnmowers.
Sony introduced their portable Micro-TV in 1962, leading Honda to develop an equally tiny generator prototype to use this portable television on the go. Seeing the potential for such a device, they launched the world's first compact generator, the E300, in 1965. To get this new design to work, they designed a new 50 cc engine specifically for the application and in the process introduced the world's first timing belt.
50ccWith the release of their first mower in 1978, they introduced a unique blade brake clutch system that would shut off the blades if the operator lets go of the handle. This made the mower safer and ended the hassle of restarts required with competing systems. This feature is still built into some of their lawn mower engines today.
Developing an Engine
Honda's small engines start their development at the small equipment lab at Honda R&D Co, Ltd, located in the outskirts of Tokyo. Sitting between two elementary schools, this small office building houses everything you'd expect to see in an automobile development lab, but on a smaller scale. Advanced CAD and simulation software is used to develop prototypes which are put through a battery of tests on-site. These tests include everything from cold weather testing in a room that has artificial snowfall to a high-temperature room that can stress and prematurely age engines to quickly identify the sources of common breakdowns. The quietness of Honda's engines is the result of tests in an anechoic chamber. It blocks all outside noise so engineers can isolate and identify where noises come from inside the engine.
These designers are able to use production techniques and materials developed in Honda's labs across the globe. In the U.S. alone, Honda has 14 research and development centers working on everything from jet engines to new materials. Honda also performs final small engine development for North America at a research center in Haw River, NC. Established in 1993, this 11,000 square foot facility makes sure each model can tolerate our widely varying weather conditions while meeting emissions standards.
Working with Equipment Manufacturers
When an equipment company wants to use a Honda engine in their products, they don't just order a few units and bolt them on. Instead, they go through a development process with Honda to make sure the engine and equipment are fully compatible.
First, the manufacturer contacts a regional distributor. Together, they work out what engine will best fit the application as well as pricing, availability, technical requirements and other issues.
Once the manufacturer knows the basics, they can build a Honda-powered prototype. This equipment is then tested at the Haw River lab to make sure the engine will work properly. This includes factors like oil temperature, vibration, operating speeds and engine loads. Wiring and mounting systems are also inspected to make sure they'll be reliable.
Maintaining the Quality of Your Honda Engine
Want to maintain the quality engineering of your Honda small engine? When you need parts, visit www.hondalawnparts.com. As a certified dealer, we're able to offer the full line of OEM parts, letting you keep your engine running just like it did when it left the factory. Our site even has factory information including parts descriptions and exploded diagrams so you can quickly find what you need. We ship across the U.S. and Canada.