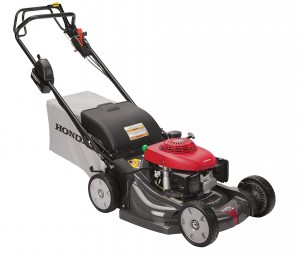 Are you looking for the ultimate residential walk behind mower? Honda's HRX series has flexible drive systems, a high performance cutting system and an advanced composite deck. This makes it one of the easiest-to-use mowers on the market while also being able to mulch and bag clippings, even when the grass is wet.
Engine
This mower is powered by Honda's GCV190. It uses an overhead cam design with a resin camshaft and internal timing belt, keeping the engine light and the part count low. The result is less noise and vibration without compromising performance.
Automatic decompression makes this engine easy to turn over, and an automatic choke means you can start mowing as soon as the engine is running. Some models also come with an electric starter. It's powered by a small handle-mounted battery that charges off of the engine's electrical system.
Superior Cutting Performance
The deck comes with Honda's 4-in-1 Versamow system with modes for rear discharge, mulching, bagging and leaf shredding. The Clip Director lets you vary how much grass is mulched and how much is bagged, letting you mulch the maximum amount of grass without clumping.
Cutting is handled by a pair of MicroCut blades. With each pass, these blades trim the grass twice, improving the finish and making clippings more compact so the bag needs to be emptied less often.
A Dent-Proof, Rust-Proof Deck
The deck is made out of NeXite, an extremely strong, durable plastic similar to the materials used to make car bumpers and the outside layer of football helmets. Because this deck is cast as a single piece, it can be made at higher tolerances than a metal deck, resulting in an increased vacuum and air circulation for better mowing performance. It's also nearly impossible to crack the deck, it won't dent and it can't rust. Honda is so confident about NeXite's performance that they back it with a lifetime warranty.
Two versions of the HRX come with Honda's trademark Roto-Stop system. This disconnects the blade shaft from the crankshaft and stops the blade. That means you can safely walk away from the mower to dump clippings or move a branch out of the way without having to restart the engine.
Self Propulsion
There are two drive systems available on the HRX:
Select Drive lets you set a speed range using the knob on the handle. From there, you can squeeze the handle to engage the drive system and get the speed you want.
The hydrostatic drive system comes with cruise control to set your operating speed. Pull the bail, and the mower starts rolling. If you have to stop for a moment, it will return to the previous speed without having to make adjustments.
With both models, the maximum drive speed is 4 MPH.
Models
Honda makes 5 versions of the HRX. Here's the equipment you get with each model:
Electric start – VLA, HZA
Roto-Stop – VYA, HZA
Select Drive – VKA, VLA, VYA
Hydrostatic drive – HYA, HZA
Warranty
The NeXite deck comes with a lifetime warranty, while the engine is covered for three years of residential use. The rest of the mower is covered for 5 years.
Sourcing Parts
You can get everything you need for your Honda mower straight from your browser: just visit www.hondalawnparts.com. As a certified dealer, we're able to ship OEM parts to any address in the U.S. or Canada. Finding parts is easy, too: just select your model and serial number, and our site can show you parts diagrams for your model, letting you see where everything fits.