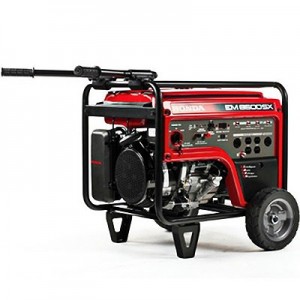 Are you looking for a generator that's powerful enough to use for home backup or powering electric tools while still being portable? The EM6500s is Honda's most powerful residential model, offering up to 7,000 watts of peak power along with an advanced control system that provides steady current that is safe for the most sensitive electronics. It also uses heavy-duty components including the company's most advanced GX-Series engine, so it's tough enough for commercial users.
Performance
The EM6500s is powered by Honda's iGX 390 engine. The iGX's ECU handles the choke, throttle, and ignition automatically, taking the guesswork out of starting and operation. Honda's Eco-Throttle automatically adjusts engine RPM to meet load requirements to reduce fuel consumption and noise. At 50% load, this generator can run up to ten and a half hours on one 6.2 gallon tank of fuel. A built-in gauge makes it easy to plan for downtime when refueling. The engine is fitted with a battery-powered electric starter. If the battery is dead, the engine can still be started using the back-up recoil starter.
All of this is packed into a frame with folding handles and wheels, making it easy to move around job sites or set up for emergency power. While running, the noise from this generator is between 64-66 dB, which is about as loud as a chainsaw.
What Can This Generator Power?
The EM6500s can produce 6,500 watts of steady power with a peak of 7,000 watts for up to 10 seconds. This peak power comes into play with reactive loads: devices with electric motors need extra power when they start up, but once underway, their power demand drops. Here are some common appliances that can be powered with this model:
Energy Star-certified refrigerator or freezer
Microwave
Sump pump
Furnace fan
Hair dryer
Electronics including TVs and computers
Garage door opener
Power tools
Plentiful, Clean Electricity
This model's iAVR intelligent automatic voltage regulation reduces voltage fluctuation up to 50% compared to other AVR systems. It does this by uses iGX's electronic control system to all but eliminate RPM fluctuations when loads change. By evening out electricity supplied to the inverter, the EM6500s is able to deliver clean, steady power that won't burn out electronics.
For connections to household appliances, there are two 20 amp duplex outlets for a total of four GFCI-protected 125-volt sockets. For higher demand applications, there are two locking plugs: one 30 amp 125-volt socket and one 30 amp socket that can be used in 125 or 250-volt modes. By flipping a switch on the panel, the dual mode socket can be set to 125 volts without limiting the generator's maximum output. All outlets are protected by circuit breakers to prevent overload in case of a short.
There's also a 12-volt connector that taps into the charging system for the generator's starter battery. By attaching an optional charging cord, the generator can be used to charge automotive batteries.
Accessories
Honda knows these generators have applications in home and work use, so they've created accessories accordingly. For home backup power, there's an available remote start kit and a transfer switch to wire the generator directly into the house electrical system. For those who want to use this generator for power at job sites, Honda offers a hanger kit to hoist it up buildings or keep it out of reach of thieves.
Warranty
The EM6500s and its iGX engine are guaranteed for three years of residential or commercial use.
Get the Parts and Accessories You Need for Your Honda Generator
Hondalawnparts.com is an authorized Honda Engines and Honda Power Equipment dealer, letting us offer the full line of Honda OEM parts and accessories for the EM6500s including transfer switches, cables, and maintenance parts. Browse our site's generator accessory section, or find the right part for your equipment by using our advanced search engine. When you enter your model and serial number, our site can show you factory diagrams and descriptions so you can be sure you're buying something that's compatible with your model. We can ship your order to any address in the U.S. or Canada.