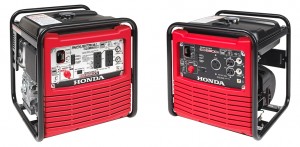 This year, Honda has added two new fully framed inverter generators to their lineup: the EB2800i and the EG2800i. These units are small enough to be portable while still delivering reliable performance for both industrial and home users, helping to bridge the gap between Honda's small portable generators and their large, rolling full frame units.
EB2800i
This industry-focused model is powered by a GC190LA engine. This prosumer power plant balances reliability with ease of use by including features like automatic decompression, electronic ignition and an automatic choke make this motor easy to start. The choke, engine switch and performance indicators are built into the control panel for easy access.
As the name suggests, this generator produces a peak of 2,800 watts for load spikes with a constant maximum output of 2,500 watts. This electricity runs through an inverter, creating a clean waveform that's safe to use with electronics. Honda's Eco-Throttle system adjusts engine speed automatically to match the load for up to 12 hours of runtime from the 2.1 gallons fuel tank. Even if you manage to keep it at 100% load, the engine will run a little over 5 hours before refueling. While operating, this generator produces between 61 and 69 dBa, which is about as loud as a conversation or being inside a busy office.
A pair of 120-volt duplex outlets provide four places to plug in devices. These outlets have independent GFCI protection, shutting off one outlet when there's a short while the other outlet will keep functioning. This generator is both OSHA and ETL compliant and it comes with a USDA-qualified spark arrester/muffler, so it's safe to use in almost any work environment.
The generator's components are built into a full frame to protect them from damage while providing plenty of areas to lift it for transport. Total weight is just 67 lbs, making it easy for two people to carry the unit or lift it into the back of a truck. Want to make it easier to move around? Honda offers a kit to add wheels so it can be rolled to the work site.
EG2800i
While this may be the residential version of the EB2800i, that doesn't mean it skimps on features. Everything from the engine to the inverter carries over with the only difference showing up at the control panel. Instead of two duplex plugs, there are two individual 20 amp 120-volt outlets and a 30 amp 125v outlet for a locking plug. This third outlet makes it easy to hook this generator up to a home electrical system using a transfer switch. Want more flexibility? The locking plug outlet can be used with an extension cord to provide an indoor power point with multiple standard outlets while leaving the generator outside where its exhaust fumes won't get trapped. As for the 120-volt outlets, each one has its own circuit protection so a short won't shut off the other outlet.
Warranty
Honda covers both models for three years of residential use and one year of commercial use.
Getting Parts for the EB2800i and EG2800i
Whether you have the newest generator or an old mower, you can get parts for it from www.hondalawnparts.com. We're not just an official Honda Small Engine Equipment dealer, we've built Honda's own parts diagrams into our site, making it easy to find what you need to keep your equipment running. We can ship anything you need to any address in the U.S. and Canada.