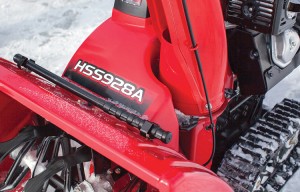 Do you feel like you're not getting the best performance from your Honda single or dual stage snow blower? Are you looking for ways to make snow clearing easier on yourself? These tips will help you clear snow faster and avoid common problems with starting and clogging.
Prepare the Area You're Clearing Ahead of Time
Removing hazards, including rocks, chains, garden hoses and extension cords from the area before it snows will keep you from running over them. Placing markers around the edges of driveways and sidewalks will let you see the area you need to clear once the landscape is covered in snow. This doesn't just save time by limiting what you clear, it protects your lawn, which can be damaged by your blower's auger.
Do you get the newspaper? Make sure it's out of the driveway before you start clearing. The paper and the plastic bag it comes in will have no problem jamming up your auger and breaking the shear pins.
Keep Your Fuel Fresh
There are few places where snow storms are constant, so it pays to be prepared for the next storm whether it's tomorrow or in a couple months. Straight gasoline starts going stale after a month, but by adding a stabilizer shortly after purchase, the fuel will stay fresh for up to three months, making your machine easier to start. Between storms, keeping the tank topped up will reduce the amount of contact it has with oxygen, keeping it fresher longer.
Move Snow While It's Still Snowing
This seems counter-intuitive: by clearing snow while it's falling, you'll have to go back and remove any remaining snow once the storm stops. However, the less snow your machine has to move at one time, the faster it can work. Clearing snow as it falls also keeps the weight of fresh snow from packing down lower layers, making it easier to remove. That means breaking up the job into two clearings can decrease the total time you have to spend out in the cold.
Throw Snow Where You Want It the First Time
When your snow blower picks up snow, it should be forced through the chute far enough to land outside the area you're clearing. If it isn't, changing your methods can keep you from having to make a second pass to move snow you already tried to clear:
– Overlap more with each pass, letting the auger pick up less snow at a time.
– Go slower and increase engine speed.
– Increase the chute angle.
– Aim the chute to work with the wind.
Keep the Chute from Clogging
Wet snow may not be dense, but it likes to stick to the auger housing and chute. If you're having trouble with chute clogs, go slower, even if the snow isn't that deep or dense.
Applying polymer car wax to the inside of plastic chutes can keep snow from sticking, while silicone spray lubricant can be used on the surface of the impeller and inside metal chutes to help snow slide through the machine.
Wait Before Refueling
You may be tempted to refill your blower's fuel tank as soon as possible so you can get back to work, but it only takes a few spilled drops of fuel on a hot engine to start a fire. When your Honda runs low on fuel, take a break to let the engine cool down and your body warm up. Once you've refueled, move your snow blower at least 10 feet away before restarting to prevent the ignition of fuel vapors.
Consider a Snow Cab
Wind chill can make cold temperatures dangerous while blowing snow is unpleasant regardless of temperature. A snow cab may not look like much, but it can shield you from these two hazards, making it easier and safer to clear large areas. Honda makes cabs that fit all of their two-stage models.
Plan Ahead for Parts Replacement
Shear pins and belts can break at any time, so it pays to have some extras on hand to keep your snow blower running. Hondalawnparts.com has these parts as well as everything else you need to keep your Honda snow blower working. When you select your model and serial number in our search engine, you'll see factory parts diagrams and descriptions, making it easy to find the right item for your equipment. Want to add a snow cab or a set of drift cutters? We sell those, too. We ship across the U.S. and Canada.