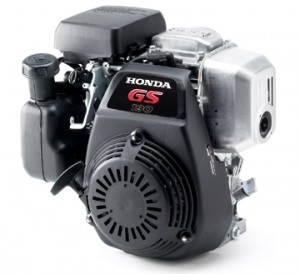 Bought a new piece of equipment powered by a Honda GS 190? Here's what you need to know to get it running and address any problems along the way.
Before Starting
Make sure there's fuel inside the fuel tank.
Check the oil level. Remove the dipstick from the filler cap, wipe off any oil, and reinsert it without screwing it back into the engine. The oil should come up above the bottom mark on the stick.
Inspect the air filter. To get to it, open up the air cleaner housing by pushing in the tabs on the side of the cover.
Check the equipment for fluid leaks, loose bolts, and other potential issues.
Lever Locations
Honda makes several versions of this engine with different ways of making adjustments to the fuel, air, and ignition. All models have a choke, but the other levers may be missing depending on the version you own. Continue reading →