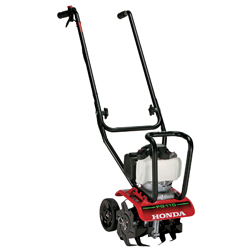 Buying small power equipment doesn't mean you have to settle for something that's cheaply made. Honda's FG110 Mini Tiller is small enough for cleaning up between rows and creating beds in small areas, and its compact 4-stroke engine makes it reliable and easier to use than two-stroke models. Add some accessories, and you can put it to work for a variety of lawn and garden care tasks, making it a useful addition for anyone whether they have a green thumb or a brown one.
Power
The FG110 is powered by a GX25 mini 4-stroke engine. Designed as a direct replacement for small two-stroke motors, it has oil baffles that allow it to be operated or stored in any position. A tube steel guard protects the engine on all sides and makes it easy to lean the tiller over for transport or maintenance.
This engine was primarily designed to reduce emissions, but it also comes with some major benefits for owners. Unlike a two-stroke, it doesn't bog down as easily, it isn't hard to start, it doesn't need its fuel mixed with oil. It's also far less prone to fuel sensitivity: current two-stroke engines need their fuel replaced after a month, while fuel treated with a stabilizer can be left in the GX25's tank for up to three months. Best of all, these improvements add little in the way of weight: at just under 29 lbs, this model is about average for the segment.
Tilling
This tiller comes fitted with 8-inch diameter tines that have a maximum tilling width of 9 inches. The tines mount to the reel shaft with Clevis pins. With the outer tines removed, the cutting width is just 6 inches, letting the FG110 get into the smallest spaces. With or without all tines installed, they can spin up to 294 RPM.
This tiller also comes with a couple features rarely seen on models at this end of the market. An adjustable depth bar limits how deep the tines can dig so surface weeds can be removed without cutting into the roots of the plants you want to keep. This model also doesn't need to be carried around thanks to standard transport wheels.
More than Just a Tiller
Every tine star can be removed from the reel, leaving space to fit attachments for common gardening and lawn care tasks:
Aerator — Breaks up compacted soil for better drainage and root penetration.
Edger — Trims plants in hard-to-reach areas next to buildings, fences, and other landscape features.
Dethatcher — Removes dead surface vegetation to increase plant access to water and oxygen
Digging tines — Cuts into soil that hasn't previously been turned.
Warranty
This model is covered for one year of commercial or rental use. For residential users, the FG110 is covered for two years, and the tines are guaranteed by a limited lifetime warranty.
Getting Parts for the FG110
When you need something for a Honda small engine or Honda power equipment, visit www.hondalawnparts.com. As a certified dealer, we're able to offer OEM replacement parts and accessories that can be shipped to any address in the U.S. or Canada. Finding the right part is easy: just select your model, and our site will show you exploded parts diagrams and descriptions straight from the factory.