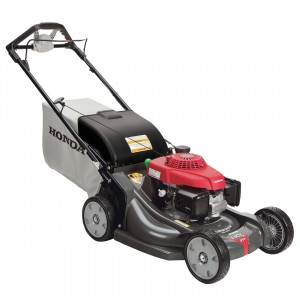 Fall is over, and that means it's finally time to stop mowing. Before you put your Honda mower into storage, there are a few things you should do to protect your machine and make it easier to put back to work next spring.
Fuel
All gasoline, even if it's treated with a stabilizer, will turn stale during long-term storage, leading to problems with lacquering and corrosion. Honda recommends draining the fuel system if the mower will be stored for longer than three months.
If your engine has a sediment cup, removing this cup and turning the fuel valve on will let the tank and fuel system drain out. GCV engines don't have this cup, but the fuel tank can be drained by removing the gas cap and tipping the mower on its side. Collected fuel can be used in your car's fuel tank.
Once the tank is empty, start the engine and let it run until it stalls. This removes any remaining fuel in the lines and carburetor.
Oil and Lubrication
Even slightly used oil contains acidic compounds left over from combustion that can damage your mower during storage. Changing the oil now will protect your engine. As long as you don't start the engine when it's cold, it's fine to use oil recommended for summer temperatures. For most engines, that's 10W30 motor oil.
HRC mowers come with sealed cables that don't require maintenance. Cables on all other models should be covered in a light oil or silicone spray to prevent rust. Water displacers and penetrating oils like WD-40 and Liquid Wrench will eventually drip off of the cables, leaving them unprotected.
Honda recommends lubricating the cylinder with oil. To do this, remove the spark plug, pour one teaspoon of oil through the plug hole, Pull the recoil starter several times: this will spread the oil across the cylinder wall and push out any excess. Reinstall the plug. When you start your mower next year, don't be surprised if it smokes for a few seconds: that's just the oil burning off.
Cleaning
Now is a good time to clean the grass bag. Rinse off the fabric with a garden hose to remove trapped dirt and debris. Let the bag drip dry before storage.
Do not use a pressure washer or garden hose to clean the rest of your mower. This can force water into the engine where it can mix with the oil and seep through bearings, damaging components. Use a brush to remove dirt and debris collected around the engine, particularly around the cooling fins. A putty knife can be used to remove grass cakes onto the mowing chamber.
Use touch-up paint to cover up areas where the original paint has chipped off. Exposed metal parts can be protected from rust by applying a light coating of oil.
Battery
Electric start models have a small battery inside the box that houses the start button. This battery should be removed and charged both before and after long-term storage.
An automotive battery charger is too powerful for this battery. Honda makes a low amperage charger specifically for these batteries. The battery can be attached to this charger for up to 24 hours. Charging longer can cause overheating, damaging the battery.
Storing
Your mower should be stored in a clean, dry place. Keep the mower away from sources of ignition, including power tools, heaters and electric motors: even with the tank and carburetor drained, there may be enough fuel residue to release flammable vapors.
Don't cover the mower with a tarp. This can trap moisture, promoting rust.
The handle can be folded down to save space:
1. Remove the grass bag and frame. These can be stored separately or placed on top of the mower.
2. Loosen the knobs on the handle joints.
3. Tilt the top of the handle forward, making sure that the cables aren't being kinked.
Get the Quality Parts You Need for Your Honda
Want to get a few things fixed before the next mowing season? Hondalawnparts.com is a certified Honda Power Equipment and Honda Engines dealer, so we carry everything you need for your mower from bags to blades. Finding parts is easy: just select your model and serial number, and our site will show you parts listings and factory information specific to your mower or engine. We can ship your order to any address in the United States or Canada.