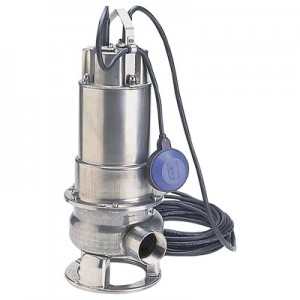 A Honda submersible pump is perfect for stationary pumping, powering fountains, clearing ponds and draining basements. However, you can't just screw on a couple of hoses and put them to use like a standard pump. To put your WS Series to work, you need to get power to the motor, set up a drainage system and make sure you can retrieve it.
Where Can I Use My Pump?
All pumps are rated for continuous use moving water as hot as 104º and can handle brief spikes up to 140ºF. If the pump does start to overheat, a built-in thermal reset will shut off the motor, then restart it once the pump has cooled down.
The WSP50 and WSP100 can handle solids up to two inches in diameter, while Honda's other pumps are limited to solids up to 3/8 inches in diameter. All pumps can handle muck water. These pumps should not be used to move corrosive or flammable liquids including mine run-off, seawater, and fuel.
The motors used in these pumps are designed for 115 volts, so they'll work with household current. Power needs to come from a GFCI-protected outlet on a circuit that can supply 15 amps. Most household circuits supply either 15 or 20 amps, so be aware that it can be easy to overload the circuit if you're running the pump alongside other appliances.
The pump plug should be connected directly to this outlet. Adding an extension cord can increase resistance, shortening the life of the motor. If you're looking for a pump that can be used far from an outlet, consider getting a WSP53 or WSP73. Both models come with 50-foot power cables.
The operating location needs to meet the ANSE/NEPA 70-1984 standard, which covers ignitable materials. Fuel cans, sawdust, gas heaters and other natural gas appliances should be kept far away from this pump.
Attaching a Rope
You can lift the pump by the handle, but it's really there to attach a rope so the pump can be lifted out of deep water. Use a strong rope made out of a waterproof material like pure polypropylene or a polyester and propylene blend. Never pull the pump up by the power cord.
Building a Discharge Pipe
The pump needs to be attached to a PVC or ABS pipe that matches the size of the pump outlet. The highest point of the pipe should be at least 15 inches higher than the highest water surface. Outlets on all models use standard pipe threading, so the discharge pipe can be attached using a standard threaded end. A 90-degree elbow can be attached directly to the threaded end when building a pipe for a side discharge pump.
An in-line check valve should be installed in the pipe to prevent backflow. This valve should be 12-18 inches above the pump outlet. The pipe also needs to have a 1/8 inch hole about 5 inches above the outlet to preventing air locking.
Setting Up a Sump Basin
A sump is the lowest point in a structure, whether it's a boat or a building. A sump basin is a container placed at this point to collect water, which can then be removed by the pump. This basin should be made of concrete, fiberglass or plastic. The diameter of the basin needs to be sized to keep the pump supplied with water to maintain the pumping rate:
Under 24 inches — Up to 35 GPM
30 inches — up to 60 GPM
36 inches — up to 100 GPM
48 inches — up to 150 GPM
If you're using an existing basin, clean out any debris before fitting your pump.
Setting Up the Float Switch
The distance between the switch and the pump is set by adjusting the clamp that holds the switch cable to the pump. When the switch is level or tilted upward, it will activate the pump. The seals are oil lubricated so they won't melt if the pump is starved.
If you're placing your pump in a sump basin, the switch should turn on when the water reaches a height of 13-14 inches. To test this out, pour water into the area around the pump, check that it's switching on, and repeat. If you're getting consistent results, the switch is set up correctly.
Missing Something?
Do you need parts for your submersible pump? Hondalawnparts.com specializes in Honda small engine and power equipment including everything from lawnmower engines to these electric pumps. Our site has factory diagrams and descriptions built in so you can be sure you're ordering exactly what you need. We ship across the USA and Canada.