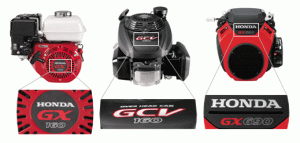 Why are Honda engines so popular in professional and high-end consumer outdoor equipment? Since its inception, Honda has been first and foremost an engine company. From aircraft to motorcycles, their engine technology has led the way with innovations like their legendary V-TEC valve control system and top-mounted jet engines. Small engines receive the same treatment with Honda consistently introducing new technologies to the market, making their offerings the most reliable, easiest to use engines on the market. Here are just a few of the features that make them so popular.
Mini 4 Stroke
Lawn professionals have a love/hate relationship with two stroke engines: on one hand, they deliver a lot of power for their size and don't have any oil inside that can leak into the combustion chamber, making them ideal for handheld equipment. On the other hand, they're difficult to start, use a lot of fuel, need their fuel mixed with oil, and are extremely sensitive to stale gas. It's also looking like the two stroke's days are numbered due to their high exhaust emissions: it's hard to argue for this design's future when workers who clean up roadsides get far more exposure to pollutants from their chainsaws and string trimmers than the thousands of vehicles that pass them by during each shift.
To address these problems, Honda designed an oiling system works at any angle, allowing them to build a small four stroke engine that can be turned and tosses around just like a two stroke. Along with other improvements including an efficient overhead cam head design, their line of Mini 4 Stroke motors are able to deliver near-two stroke power without all the two stroke's disadvantages. They aren't just better for the environment and easier to use, their low fuel and oil consumption means operating costs are half that of comparable two strokes.
Oil Alert – GX, iGX, V-Twin
Air cooled engines depend on oil for both lubrication and cooling, which means it doesn't take long for a lack of oil to cause serious damage. Honda's Oil Alert system links the ignition system to a sensor in the sump, shutting off the engine if the oil level is too low and preserving the engine.
Integrated ECU – iGX
The iGX has an ECU that controls the throttle, choke and ignition timing. These functions can be controlled using "drive-by-wire" systems, eliminating mechanical cabling that can rust. This allows engine settings to be programmed to fit the equipment's needs, while the governor can adjust automatically to current conditions to maintain power. This reduces maintenance while making the engine easier to use, so it's a perfect fit for rental equipment.
Variable Timing Ignition – GX, iGX, V-Twin
Timing on most small engines is controlled by the movement of the flywheel past the ignition coil, but with this technology, timing can be adjusted to fit current conditions and engine speed. That means easier start-up, increased fuel efficiency and more peak power.
Integrated Cylinder and Head – V-Twin
Since the cylinder and head are cast as a single unit, there's no head gasket or bolts to fail, and there's better heat transfer between these two sections of the engine, increasing reliability, particularly in harsh environments.
Lifetime Belt-Driven Overhead Cam – GC, GS, Mini 4 Stroke
Cam chains are noisy and heavy, while belts can stretch and break. By moving the belt inside the engine where it can be lubricated, Honda engineers have been able to make a belt drive system that will last the life of the engine, combining the advantages of chain and belt drives.
Automatic Mechanical Decompression – All Engines
On most engines, when you pull on the starter handle, you have to get the engine to spin past the compression stroke to start it. Honda uses a mechanical system on their motors that keeps the exhaust valve from closing completely, letting the air inside the motor pass through freely instead of being compressed. Once the engine is running, the system disengages and the cam acts normally, sealing the chamber for maximum power. Since this system is used on all of Honda's modern engines, electric start versions need less battery power and can use smaller, lighter starter motors.
Easy Access to Parts
Honda has the technology to make small engines reliable and easy to use, while www.hondalawnparts.com makes it easy to get the parts you need to keep them running. Our search engine doesn't just find parts, it shows you Honda's own parts diagrams and lists factory descriptions so you can identify exactly what you need. No matter where you live in the U.S. or Canada, we can ship those parts to your door.