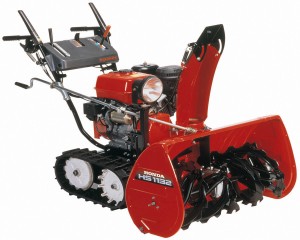 It's that time of year again: the leaves have fallen and the grass has stopped growing, replacing lawn care with snow removal. What Honda snowblower will fit your needs?
Single-Stage vs. Two-Stage
A single-stage snow blower uses one auger to pick up snow and push it through the chute, while a two-stage snowblower adds a second auger to push snow through the chute. This lets two-stage blowers throw snow farther so they can clear larger areas. Honda's single-stage blowers can throw snow up to 33 feet away, while their two-stage blowers can throw snow between 49 and 56 feet away, depending on the model.
Drive System
Honda's single-stage snowblowers are "semi-self propelled." There's no drive system, but the action of the auger digging through the snow helps pull the machine along the ground, reducing the force needed to push the blower through the snow.
All two-stage snowblowers except the HS1336iAS come with a hydrostatic drive like you'd find on a riding mower. The wheels are driven by a hydraulic system that can be infinitely varied to get the speed you want.
The HS1336iAS uses a hybrid drivetrain. The engine powers the augers, while electric motors power the tracks. While there are efficiency benefits to this system, its biggest advantage is the motors' ability to deliver maximum torque as soon they start moving. This keeps the blower rolling in situations that would bog down other equipment. It also has a transport mode, allowing the snowblower to be moved around without starting the engine.
The HSS1332AT, HSS1332ATD, and HS1336iAS use a track drive system, which gives them the grip needed to clear snow on inclines.
Starting
The HSS928AWD, HSS1332ATD, and HS1336iAS all have electric starters. Unlike most snowblowers on the market, these starters are powered by the on-board batteries, so there's no need to plug it into an outlet.
All other models use a standard recoil starter, but since the engine has an automatic decompression system, they're easy to turn over, even in cold weather.
Height, Width, and Pounds per Minute
A snowblower has a maximum snow height it can handle and a maximum width it can remove with each pass. While it's technically possible to reach the maximum width and height, the actual amount it can handle without bogging down will depend on snow density, which can vary a lot: a cubic foot of light snow may only weigh 7-8 pounds while the same amount of hard pack snow can weigh well over 20 lbs. To make apples-to-apples comparison easier, Honda includes a pounds-per-minute rating, which is how much snow the machine can move regardless of depth. All things being equal, a snowblower with a higher pounds-per-minute rating will be able to cut through a wider strip of snow with each pass.
Chute Control
Honda's smallest model, the HS720AM, uses a simple chute control: the height is adjusted using a pair of bolts, while the direction can be changed by turning the chute using the handle.
Most models come with Honda's Snow Director. This uses two levers mounted on the handle to change the direction of the chute and the angle of the opening to drop snow exactly where you need it with each pass. The largest models use a power tilt system with similar controls.
Parts
No matter which Honda snowblower you end up purchasing, you can get everything you need for it from skid shoes and shear pins to major components from www.hondalawnparts.com. We're a certified Honda Power Equipment dealer, which lets us offer the full line of OEM parts. Finding what you need is easy thanks to our advanced search engine that has built-in factory diagrams and descriptions. We can ship your order to any address in the U.S. or Canada.