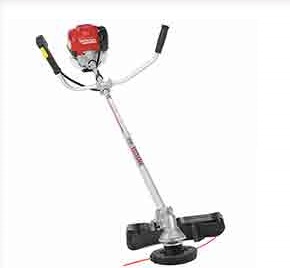 Honda's trimmers are set up for mowing straight from the manufacturer, but with the right accessories, you can use your HHT Series for a variety of landscaping tasks. Switching to a blade can turn your trimmer into a brush mower or sapling cutter, while improved heads and harnesses can make your equipment easier to use.
Barrier Kit
On older models, the cutting line shield, grass blade cutter shield, and brushcutter shields use different designs. The newer HHT25 and HHT35 now use just two shields: one for string trimming and one that works with any blade.
Both the HHT25 and HHT35 need a different deflector to work with cutting blades. This kit isn't needed for the HHT35SUKAT, which is equipped for brushcutting from the factory. Kickback can be a problem when using blades, so these kits also include a double harness, letting you carry the weight of the trimmer evenly on your shoulders, letting you use your hands solely for control the cutting head.
Grass / Weed Blade
A string trimmer head can cut grass while bouncing off walls and fences. However, if you won't be working around these obstacles, a grass/weed blade will cut just as well without needing line or having issues with clogging. This makes these blades are perfect for mowing wide areas.
Honda used to offer weed/brush blades, but new, stronger grass/weed blades can do the same job while still performing well on light growth. These blades are available with different numbers of teeth. A blade with fewer teeth will cut faster, while a blade with more teeth will leave a cleaner cut.
Honda makes 10-inch diameter blades with three or four teeth for the HHT35 series of trimmers. HHT25 owners can equip their trimmer with a 9-inch blade that has three, four or 8 teeth.
Brush / Wood blades
Resembling a circular saw blade, these blades are designed to cut woody growth including high grass and saplings. The tooth profile is similar to the blades found on chainsaws and delivers the same type of cut.
Honda offers a 24 tooth brush/wood blade for HHT25 trimmers and an 80 tooth blade for HHT35 trimmers. If you're looking to buy a trimmer and want to regularly use it for cutting wood, consider the HHT35SUKA. It has a bicycle handle, which makes it easier to control kickback.
Trimmer Heads
Most models come with the Semi-matic trimmer head. It holds up to 20 feet of line and has both an automatic mechanism to release line as it wears down and a bump feed mechanism that releases line manually by pushing the button on the bottom of the head. More line can also be released by turning the center of the head, which is handy when you need to get the last bit of line off before reloading the spool. The Pro-tap is an upgraded version of the Semi-matic bump feed head. It works the same, but it uses tougher construction to withstand the rigors of commercial use.
For those who want a quieter trimmer or hate dealing with spools, Honda offers the Kwik Loader head. It uses a mechanism that grabs onto pre-cut lengths of line when pushed in and will release the line when pulled outward without needing tools. It's designed specifically for Prolux Ultra Quiet line which has an aerodynamic spiral shape that reduced noise by 20%. This head comes with the HHT35SUKA from the factory.
Get Blades, Guards and More Shipped to Your Door
As a certified dealer for Honda Power Equipment and Honda Engines, www.hondalawnparts.com is able to offer the full selection of OEM parts and accessories for your trimmer. Check out our String Trimmer Parts & Accessories section, or select your model and serial number to see parts that are compatible with your equipment. We ship across the United States and Canada.