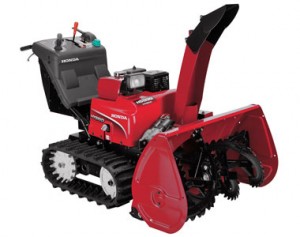 Buying a snow blower can be confusing: Honda has 14 models, letting you pick from two auger types, three starting systems, and three drive systems, not to mention various widths and snow capacities. Which one is right for you? Here's how you can narrow down the selection.
Size and Power
For the best performance, you should plan on some overlap with each pass so the effective clearing width will be 20% narrower than the actual auger width. If you're nearing the maximum capacity of a snow blower, you should plan on a 50% overlap.
Snow density can vary a lot between snowfalls, so it's hard to directly correlate power to snow clearing ability. Fresh snow can weigh as little as three pounds per cubic foot, while settled snow can top 19 lbs. and packed snow can reach 25 lbs.
When selecting a snow blower, your primary concern should be the width and depth of snow the auger housing can handle. Once you narrow down your choices, choosing a model with a higher pound per minute rating will let you clear snow with less overlap between passes.
Wheel or Track Drive?
Track drives handle packed snow and slopes better than wheels. Choose a track drive if you need to clear snowbanks, snow that has been driven on. A track drive snow blower is also a good choice if you need to clear snow off of a flat industrial roof.
Snow blowers with wheels are easier to turn, saving time and effort when clearing flat surfaces like driveways and parking lots.
Single or Two Stage?
A single stage snow blower has an auger that spins fast enough to pick up snow and push it out of the chute. This mechanical simplicity makes these machines light and easy to maneuver.
A two-stage snow blower lifts snow off of the ground with a low-speed auger, then pushes it out of the chute with a high-speed impeller. This helps the machine pick up heavy snow and throw it further so it can clear wide areas.
A single stage snow blower like the HS720 is ideal for clearing paved sidewalks and driveways for single or two-car garages and works best for snow under 9 inches thick. If you need to clear larger areas, uneven surfaces or major accumulation, get a two-stage snow blower.
Electric or Recoil Start?
Honda engines are easy to start in cold weather, and all models have a recoil starter, whether it's the only way to start the engine or it serves as a backup for the electric starter.
The HS720AS uses an AC motor to start the engine, which needs to be plugged into an electric outlet to work. All other electric start models have a built-in 12-volt battery that powers a DC motor so the starter can be used anywhere.
Hydrostatic Drive, Hybrid Drive or No Drive?
Honda's single stage blowers have no drive system, but as the auger's rubber paddles scrape against the ground, they help pull the machine along when applying light pressure to the handles.
All but one two-stage Honda snow blower comes equipped with a hydrostatic drive. By varying fluid flow inside of the transmission, the speed can be infinitely adjusted while letting the engine run at full power to operate the augers.
The hybrid power system on the HS1336iAS uses electric motors to operate the tracks. These motors produce maximum torque as soon as they start moving, making it the best model for clearing snow on slopes. The motors can also be used with the engine off for easy transport.
Do I Need Drift Cutters?
These are a must-have if you live in a place that gets frequent heavy snowfall. Snow drifts are created by wind gathering snow in one spot, creating a large hump that resembles a sand dune. Drift cutters are blades that extend above and ahead of the auger housing, slicing through these drifts so the snowfall into the path of the snow blower. This keeps the tops of drifts from collapsing onto the snow blower and the pavement. Drift cutters can be fitted to any two-stage snow blower.
Do I Need a Cold Weather Cab?
Wind chill can make a cold day uncomfortable or even dangerous. At 20°F, a 20 mph wind results in a wind chill of 4°F. A snow cab might not look like much, but by shielding your body from the wind, you'll be a lot warmer. Honda makes cabs for all two-stage models.
Where Can I Get Parts and Accessories?
No matter which model you choose, you can get all the OEM parts and accessories for your Honda snowblower at www.hondalawnparts.com. Finding parts is easy: check out our "Snow Blower Parts & Accessories" section, or search for your model to see everything that fits your machine. We ship across the United States and Canada.