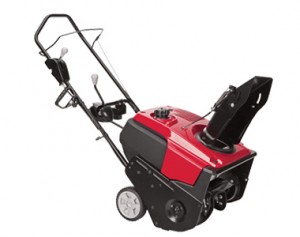 If you own a Honda HS720AM Snow Thrower and have been experiencing trouble with your equipment, here are a few suggestions that will get your snow thrower running smoothly again.
When Your Electric Starter Won't Operate
This may be due to a faulty power outlet. Try using a different outlet, or start the engine using the recoil starter. If the problem is with the electrical cord, replace it immediately, or use the recoil starter to start the engine.
When Your Starter Operates But The Engine Won't Start
This may be caused by not switching on your engine switch or fuel valve. Take a moment to ensure that both are properly switched to the "on" position.  If the fuel you are using has gone stale, drain your carburetor and replace it with fresh fuel.

There may also be issues with your spark plugs. Make sure your spark plug cap is properly connected. You should ensure that there is no buildup on your spark plugs and that the gap is the proper distance.
When The Engine Runs But The Auger Won't Operate
If your auger paddles are worn out, replace immediately. If the auger clutch is not working properly, make sure it is engaged by pulling the lever towards the handlebar. If there is too much play on the clutch lever, you will need to adjust that.   If you're still having problems with your auger, it may from a broken, worn out, or overstretched drive belt. Contact us for a replacement.
When Your Chute Doesn't Turn
If the chute, gears, or levers are clogged or frozen, you will need to melt off the ice and clear away any obstructions. If the lever turns but the chute doesn't, check the control rod pin. Also, check all gears on the unit that may be stripped or broken.
When Your Engine Has Low Power
If your engine is functioning at low power, first make sure you are using the snow thrower on a level surface. Check that your fuel is fresh. Make sure the discharge chute is free of any obstructions. Check the choke to make sure it is in the "open" position. If you've done all of this, and still experience a sluggish engine, it may be time to replace your spark plugs.
When The Snow Doesn't Discharge Properly
Make sure the equipment is set for the proper snow depth. You may also need to clear your discharge chute of any debris that may be preventing rotation.
When The Engine Stalls While The Chute Lever Is Engaged
This is most likely because foreign objects are clogging it. The same may be true for your auger. Check both areas for obstructions. If you discover that your auger is frozen, warm it up for a few minutes before continuing.
Where To Buy Parts For Your Snow Thrower
If you are in need of new parts for your snow thrower, you can purchase them directly from Hondalawnparts.com.  Our advanced lookup tool will help you find the OEM parts you need, or you can contact us if you're not sure which part to order.  For more helpful hints on how to make the most of your snow thrower, search for snow throwers on the upper right-hand column of our  blog.