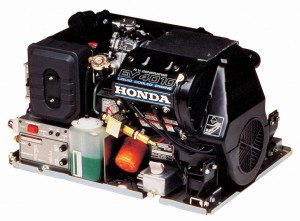 Honda is known for its quality cars and engine designs, and that fact extends to their generators too. Hook up the EV4010 generator to your recreational vehicle or home. You'll have immediate power for all of your critical electrical items. Although Honda generators are reliable machines, they aren't maintenance-free products. In fact, you need to stay on top of their maintenance schedule so that they can work without a hitch. Take a look at the maintenance and parts replacement tasks you will need to perform, so that your Honda EV4010 generator can stay in tip-top shape.
Troubleshooting Your Generator
Your EV4010 operates on a similar level to your car's engine. You have a fuel-powered engine, radiator, sparking system and cleaner element. If you encounter any issues with your generator, they're often simple maintenance tasks that should be performed. When your generator doesn't start, the first items you should check are the fuses. Honda uses several fuses on their generators to protect the electrical circuitry. Blowing fuses means that a power issue might be present or the parts were simply worn.
You'll need to check your air and oil filters for any debris along with spark-plug health. Replace or clean the filters as directed by Honda. Recap your spark plugs or replace them altogether. Your generator will run smoothly when these parts are well-maintained.
Locating and Ordering OEM Parts
When you narrow down the parts that you need for your generator, you might wonder what step to take next. Purchasing parts from a local store could mean several hours of searching through the inventory. The best way to find the right parts in a timely fashion is by visiting hondalawnparts.com. You'll be greeted by a simple drop-down box menu that divides out all of Honda's small engine products.
Find your generator's model number and scroll down until you find the part that you require, such as a gasket kit. You can order this item or even see it laid out on a detailed parts diagram. This system makes it possible to find the part that you need with very few mistakes. Go elsewhere and you might receive a part that doesn't fit your generator, and the ordering process must be performed again.
Contacting Professionals for Help
Although you may have a good grasp on the necessary parts and how to install them, generator repairs can be complex once you start on the project. Don't get frustrated and leave the generator unfinished. Reach out to one of Honda Lawn Parts' trusted professionals. They can offer suggestions about what part you need and often questions about the installation. They'll even know if the part you had was superseded by a new part from the manufacturer.
Honda OEM parts are easy to find when you shop online at hondalawnparts.com. In fact, this company has a Honda Small Engine Equipment certification direct from the manufacturer. In this technical business, that certification means that many highly talented and trained individuals are ready to support you with all of your parts needs. When you contact Honda Lawn Parts, you'll reach a real brick-and-mortar store that employs people who understand Honda engines. Caring employees want your generator to work smoothly throughout its lifetime. The Honda Lawn Parts team can ship your items to Canada or the United States.