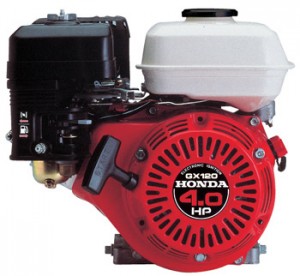 Consumers know that Honda manufactures dependable products that are durable and reliable. That is certainly true of the Honda GX120 4hp Engine.
Overview
The Honda GX120 is a very versatile engine that can power many different pieces of commercial or residential equipment. It is perfect for the go-cart you may be building for your child or for your lawn and garden equipment, generators or water pumps. It has more than enough power to meet your needs.
Its precision camshaft design and precise valve timing provide better fuel efficiency. The engine runs very quietly and performs smoothly due to its carefully engineered components. There is simply less vibration and more stability. It is lightweight and ergonomically designed to provide an easier start. You also have the option of having an electric starter. This engine comes with a three-year limited warranty.
The owner's manual provides detailed, illustrated instructions on how to operate and maintain the engine to ensure peak performance all the time.
Proper oil
Make sure you have the proper weight of oil to ensure a long life. SAE 10W-40 is the recommendation for general, all-temperature use. Always check the oil level before using.
Fuel and fuel safety
Make sure you have the correct fuel to prevent serious damage to the engine. Gasoline having an octane number of 86 or higher is recommended. Since gasoline is flammable and its vapors are dangerous, be very careful of spills and do not inhale the fumes. Make sure that you do run the engine where there it is well-ventilated to prevent long exposure to its exhaust fumes as carbon monoxide is produced which can be fatal if inhaled.
Before operating
Check the air cleaner elements to ensure they are clean and in good repair. When you start the engine, allow it to warm up for a few minutes before operating it. Follow the recommended maintenance procedures as displayed in the owner's manual, and your engine will provide years of service for you.
Where to find replacement parts and more information
If you have any additional questions or need replacement OEM parts for your GX120, head over to hondalawnparts.com. Our staff will gladly assist you with troubleshooting and part recommendations. We ship across the U.S. and Canada.  We have hundreds of articles on our blog for additional information about Honda parts, products, and services.