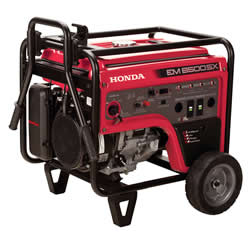 A Honda generator can keep your tools and appliances running whether you're tailgating, waiting for a storm to pass or working in remote areas, but only if you have a way to get power from the outlets to your equipment. What should you look for when getting cables to use with your generator?
Why are Extension Cables Necessary?
The engine in your generator produces an odorless gas called "carbon monoxide." If it's run indoors or next to a building, this gas can collect in concentrations that can lead to asphyxiation. Over 85% of non-fire related deaths caused by carbon monoxide poisoning in the U.S. are the result of generators being used indoors. To keep the generator in an open area and still have access to the power it produces, you need extension cables.
While you may have some cables on hand, you likely don't have ones that can withstand the high currents and conditions needed to safely get the most power from your generator to what you want to power. Buying the right cables now will let you put your generator to work as needed to provide power during blackouts and in remote locations.
Plug Types
Small portable generators have duplex plugs, while larger generators have both duplex and twist lock plugs.
A duplex plug has two 120 volt sockets connected to the circuit by a single set of wires. This means the rated amperage applies to the total draw from both sockets on a duplex plug. When selecting cables, one cable can be used to transfer the full rated power of the duplex plug to the location you need the electricity, leaving the other socket unused. Honda uses Ground Fault Circuit Interrupter (GFCI) three pronged sockets for these plugs, which have breakers that cut the flow of electricity if there's a short.
A twist lock plug has curved blades that are designed to slide into the socket and twist, locking the plug in place so it remains secure when subject to movement and vibration. It can be used with a transfer switch or with an extension cable that splits the current into standard 120-volt sockets.
Transfer Switches
To legally connect your generator directly to your household's wiring system, it needs to be plugged into a professionally-installed transfer switch. This device breaks the connection between your house and the electrical grid when the generator is active to keep power from being sent into neighboring power lines where it could electrocute line workers.
The switch will have its own twist lock plug, requiring a female to female twist lock cable to make the connection. Finding the right cable is easy since this socket combination is almost exclusively for transferring power between these two devices: just look for one that matches the maximum amp rating on your generator that has plugs that match both the generator's outlet and the transfer switch's plug.
Finding the Right Cord
The meaning of product terms like "outdoor" and "heavy duty" can vary, but you can find out exactly what an extension cord is capable of thanks to standard cable labeling that can be found printed on the cord jacket and in the cable's specifications. This starts with a series of letters that describe the construction of the cord:
S – Flexible, general use cord
W – Outdoor use
J – "Junior service" insulation rated at 300 watts. Wire without this designation is rated at 600 watts.
P – Parallel wire construction for household use
T – Vinyl thermoplastic jacket
E – Thermoplastic elastomer rubber (TPE) jacket
O – Oil Resistant
OO – Oil resistant jacket and insulation
W, W-A – Weather approved for indoor/outdoor use
HPN – Oil resistant for portable and damp location use
SPT-2, SPT-3 – For light duty damp locations
For example, an SWPEO cable is a general use cord designed for outdoor use with parallel wire construction and a TPE outer jacket that is oil resistant. In general, cords should use TPE for durability, be weather and water resistant, and, if you'll use it near oil-lubricated equipment like trucks and tractors, be oil resistant.
Next on the label are the letters "AWG" followed by a dash and two numbers separated by a "/." The first number is the American Wire Gauge number. A lower number indicates a thicker, less resistive cable. Your needs will vary, but there are some general guidelines for wire thickness:
16 gauge – under 10 amps
14 gauge – 10-15 amps at up to 50 feet
12 gauge – 10-15 amps at up to 100 feet
10 gauge – 15 amps or more
The number after the "/" is the number of conductors, usually three to support a three prong plug and outlet. For example, "AWG 10/3" means the extension cable uses 10 gauge wiring with three conductors.
Where to Find Cords, Transfer Switches and More for Your Honda Generator
Hondalawnparts.com is a certified Honda Power Equipment dealer, so we're able to offer OEM parts and accessories including power cords and transfer switches designed specifically for their generators. We ship across the U.S. and Canada.