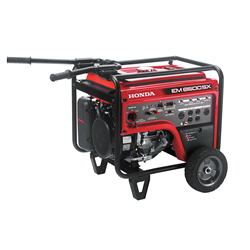 Getting started with a Honda generator can be daunting for those new to either power generation equipment or the Honda brand. Luckily, however, the Honda lineup is actually very easy to use. With a few basic tips and guidelines from the outside, those new to either Honda or generators in general, will find that they can easily power the equipment on, keeping it in great working condition, and compensate for power outages or other events effortlessly throughout the year.
General Generator Tips for Smooth Operation
Those new to generators shouldn't skip over the basics. Some of the most fundamental tips and tricks are the most useful when it comes to starting the generator, keeping it operational over a long period of time, and ensuring the long-term durability of the equipment in all kinds of weather. These basic tips include the following:
– Always keep the generator dry in order to protect and preserve the engine. Operate the equipment under a roof or in a ventilated, enclosed outdoor area, to ensure its longevity.
– Operate generators only outdoors, and make sure that indoor spaces are closed off so that fumes do not enter the home.
– Read the operator's manual before running the generator for the first time.
– Operate the generator once a month to ensure its functionality and to keep its parts in good condition in case an emergency situation does arise.
– Keep the generator on a level and firm surface.
Fuel Guidelines: Tips for New Generator Owners
Just like cars, generators require certain types of fuel and certain procedures for proper refueling. Following these tips will help the generator run longer, start easier, and suffer from far fewer maintenance concerns or repairs than would otherwise be the case.
– Use an unleaded fuel that rates at least 86 or higher in terms of its octane level. Diesel or ethanol fuels can cause significant engine damage and other problems if placed into the fuel tank.
– Place the generator in an area free of dust so that the fuel remains clean. Also ensure that fuel is fresh, as stale fuel will make generator ignition particularly tough.
– Generators should be both stored and refueled in an open or well-ventilated area to guard against the dangers of gasoline fumes, unwanted sparks and ignition, or other safety risks.
Starting the Generator
Honda generators are actually very easy to start, and require only a few basic steps prior to each use of the equipment. Before getting started with engine ignition, make sure that the generator has been placed outside in a covered, ventilated area and that it is properly connected to power sources as needed.
Next, check the engine's fuel level and top off the fuel tank if required. Check the oil level as well, and add oil if necessary so that the engine doe snot experience significant damage. The air filter can also be checked at this time, which will make the equipment easier to start.
Turn the circuit breaker off and the generator's fuel valve on, and then start the generator. The equipment must be permitted to run for a few moments before the circuit breaker can be safely switched back on. Once the breaker is back on, however, appliances and other items around the home can be reconnected and turned on so that they can utilize the generator's power.
Stopping the Generator
Stopping the generator is even easier than getting it running. Simply switch off the circuit breaker, turn off the generator's engine switch, and then place the fuel valve in its "off" position. If the generator requires moving into a secure or indoor location for storage, it's safe to perform that procedure after it has been switched off.
Big Moves: Tips for Transporting and Storage
Before moving or storing the generator, there are a few things that must be checked and performed to ensure great safety and continued equipment integrity. Start by checking that the fuel valve is switched off, and allow the generator to cool down for at least 15 minutes before transporting it anywhere. This significantly reduces the risk of injury or damage to any equipment that might come into contact with the generator in its storage facility.
Generators should always be stored upright. If being stored for longer than two consecutive months, the generator's fuel should be completely drained to prevent engine and fuel tank damage during the storage period.
Find Honda Generators and New OEM Parts at HondaLawnParts.com
Throughout the year, generators will typically require preventative maintenance or even a few basic repairs. When that time comes, it's a good idea to head to HondaLawnParts.com and use the site's online parts lookup tool to find replacement options. These parts are all OEM in nature, meaning they come with Honda's commitment to excellent quality and durability. They can be sorted by engine type, equipment model, or part number, making compatibility all but guaranteed.