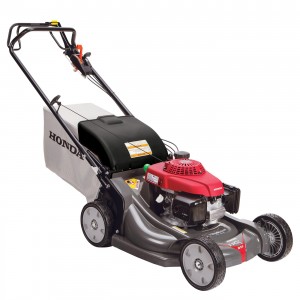 The HRX is Honda's line of top performing mowers, offering all the company's latest technical advancements including a few industry firsts. What makes these mowers stand out?
Cutting Performance
All HRX mowers use Honda's MicroCut twin blade cutting system. This design pairs two uniquely shaped blades that sit on top of each other, cutting grass twice in the first pass for smaller clippings when collecting or discharging. When mulching, the dual action chops up grass faster, helping the mower deal with thick and wet grass that would clog other mulching mowers.
These mowers use Honda's 4-in-1 Versamow System, letting you choose between mulching, bag, or discharge clippings plus a special leaf shredder mode. The bag and deck plug can be attached without tools, and the Clip Director allows clippings to be redirected by moving a single lever, making it easy to switch modes.
Honda also offers some HRX models with Roto-Stop. Instead of being directly attached to the motor, the blades are mounted to a clutch, letting them spin down while the engine is running. That means there's no need to stop the motor if you need to step away to pick up a branch or you need to push the mower over gravel or other debris.
Drive
There are two propulsion systems available: Select Drive and Hydrostatic Cruise Control. Select Drive is infinitely variable, letting you set exactly the speed you want. Hydrostatic Cruise Control uses a hydrostatic drive like those found on riding mowers. With this transmission, speed can be adjusted while in motion. With either system, everything can be controlled from the handle, and the mower can reach a top speed of 4 MPH.
Durability
The deck is made from NeXite composite. Unlike steel decks, it will never rust or dent. Honda is so confident about the longevity of NeXite that the deck is backed by a limited lifetime warranty.
All HRX mowers are powered by a GCV190 engine. This motor was designed from the ground up for reduced noise and high efficiency, and its reliability has been proven in everything from mowers to specialty farm equipment. In these mowers, the choke is handled automatically, while the throttle is either fixed or adjustable depending on the model.
For everything but the deck, the mower is covered by a 5 Year residential warranty. If these mowers are used commercially or for a rental business, everything is covered by a three month warranty.
HRX Models
Honda offers 5 versions of the HRX. Here's what they offer:
HRX217VKA
Select Drive
HRX217VLA
Select Drive and electric start
HRX217VYA
Select Drive, adjustable throttle and Roto-Stop
HRX217HYA
Hydrostatic Cruise Control, adjustable throttle, and Roto-Stop
HRX217HYA
Electric start, adjustable throttle, Hydrostatic Cruise Control, and Roto-Stop
Where to Get Parts for Honda HRX Mowers
www.hondalawnparts.com is a certified Honda Small Engine Equipment dealer. We carry everything you need to keep your HRX running from spark plugs to starters. Our site has factory diagrams built into the search engine so you can see exactly what you're ordering and where it fits on your mower, and we can ship your order to any address in the U.S. and Canada.