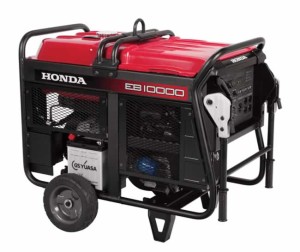 Few would dispute the quality and longevity of Honda's commercial generators, but an industry publication recently went so far as to reward the company for making groundbreaking progress toward a large, low-noise, high-efficiency generator. The Rental Equipment Register, a magazine dedicated to developments in the heavy equipment and equipment rental industries, gave the Honda EB 10000 its "Most Innovative Product" award for 2012. That distinguished honor is the result of serious innovation at Honda that has managed to create one of the quietest, most powerful commercial generators available. All the while, the EB10000 remains relatively light and definitely portable.

The Flagship: Honda's EB10000 Generator is a Big Deal for Commercial Businesses
One of the things that has made the EB10000 such a standout generator in so many corners is its status as the highest-powered model currently available from Honda for any purpose. The company's mission with the EB10000 was to make the smallest generator with the largest amount of power, surpassing the competition without engaging in a real compromise of Honda's long-term ideals in the power equipment industry. Honda has always been committed to the right combination of power and compact size, and that remains true with the EB10000.
The generator itself weighs just 403 pounds, despite offering a staggering 10,000 watts of continuous power when fully utilized by commercial enterprises. Its light weight generally defies the expectations of business owners, and it means that the generator is highly portable. It also means that Honda's EB10000 generator is perfect for equipment rental stores, which is the primary focus of the Rental Equipment Register Magazine in the first place.
Because of its relatively light weight for a generator of this capacity, the EB10000 comes with side handles and two wheels that make it easy to transport. That kind of mobility is crucial during a power outage or any other kind of emergency, and it's something that Rental Equipment Register Magazine focused heavily on when giving the "Most Innovative Product" award to Honda.
Recognition for Innovation in Continuous Power and Quality of Service
Honda's EB10000 generator comes with what the company calls its Digital Auto Voltage Regulator system. The unique device is exclusive to Honda generators and it actually debuted as part of the EB10000's release in 2012. Simply put, the regulation system ensures that the generator's voltage and wattage remains consistent within a 1 percent margin of error while the generator is in use. This works whether the generator is at full capacity or is using only a fraction of its available wattage.
The auto regulation system pioneered by Honda with its flagship generator ensures that businesses won't be subject to the damage that can result from fluctuations in available power. All too often, those fluctuations are typical to generators and can cause real headaches with malfunctioning equipment, inconsistent power, and an overall loss of productivity when a generator is the sole source of electricity for any period of time.
Compact in a Great New Way: Small Size Pays Dividends for Honda
Another key feature of the EB10000 is its relatively small size in relation to the amount of power that it can supply to commercial businesses and industrial facilities. The generator has a unique, narrow design that allows it to fit into a number of tighter spaces. That allows the generator to be closer to the facility than many other models, and it means that more cords can connect to the many outlets found on the EB10000.
Its closer proximity to the businesses it serves will not result in an increased amount of noise, even though the generator features the seriously powerful Honda GX630 commercial engine. Engineers at Honda worked tirelessly on the generator during its development, largely in an effort to reduce the overall amount of noise generated while it was in active use.
According to the people behind Rental Equipment Register Magazine, the company's efforts in this area have resulted in great success for business owners. The overall noise reduction, to just 76 dB under a maximum load, is industry leading and they're a big reason for the generator earning the "Most Innovative Product" reward for 2012. Business owners will actually be able to hear themselves think when the generator is in use, which cannot be said of all models currently on the market.
A Strong Offering from Honda that Beats the Competition
Simply put, the Honda EB10000 commercial generator is in a class by itself. That elevated standing has drawn praise and attention from business owners, rental equipment suppliers, and Honda distributors. It's no wonder Rental Equipment Register Magazine rewarded the generator for being the most innovative product of 2012. With reduced noise, a smaller footprint, and the largest amount of power produced by any current Honda generator, it represents a large leap forward for both Honda and commercial generation
Honda's generators have a reputation of quality and durability. Over time, all hard working equipment will require replacement parts during routine maintenance. www.hondalawnparts.com, is the go-to resource for Honda OEM parts. With an easy to use online parts lookup tool, your Honda Generator will be working for many years to come.