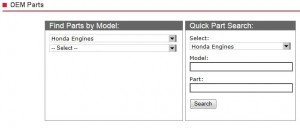 If there is one attribute that could be used to describe consumers of all types when an engine requires repair or maintenance, it would certainly be "impatient." There's simply nothing very enjoyable or exciting about having to perform routine maintenance on an engine, and most people are not very enthusiastic about any repairs that might have to be done to their engine to get back in work order. with that being said, though, it's important to choose a resource that can help overcome those unpleasant associations when looking for quality parts that are guaranteed to be compatible with any engine or Honda power equipment model.One such tool is the parts lookup tool found on the website of Honda Lawn Parts. The tool is actually quite versatile, and very intuitive, offering a search form for both advanced customers and those who have a bit less experience with power equipment, engines, and finding the parts required to keep those things in working condition. Because of its versatility and its ability to adapt to virtually any customer need, this parts lookup tool should be the first destination that any customer goes to when their engine needs service.
Before using the Honda Lawn Parts lookup tool, though, customers should be sure that they understand exactly how to use it, and exactly which pieces of information they'll need in order to conduct a successful search.
Basic Users: The Tiered Method of Narrowing Down Available Parts
The first thing customers will notice when they point their web browsers to the parts lookup tool is that it's split into two distinct areas. One area features drop-down menus where numerous options can be selected. The second area, to the right of the drop-down menus, allows for direct entry of information so that the search tool can perform its job just a bit more quickly.
For basic users, the left-hand side of the parts lookup tool, with the drop-down menus, will be the most useful. This part of the lookup tool is designed to cater to those customers who simply aren't sure of their exact engine model number and have no idea what the part number is that will fix their problem. With the help of the filtering system presented here, that information will gradually become a bit more obvious.
To start using the parts lookup tool, be sure to select "Honda Engines" in the top drop-down box. The other option, "Honda Power Equipment," should only be used for parts that are required for non-engine maintenance of Honda products.
Next, select the "ENGINE" folder from the second drop-down menu. A third menu will result after this selection, and it will list each of the engine series supported by Honda Lawn Parts and the company's parts lookup tool. Peruse this list until the proper engine series has been located, and then click it. Another menu will appear just below.
The final menu will present a long list of engine model numbers, complete with VIN numbers and other information that can be used to sort parts and find those that are most compatible with a given engine. Simply select the exact engine being serviced, and then select the part that needs to be repaired or replaced. Click "Search" and all of the company's relevant parts will be displayed, alongside a parts diagram that explains each available option.
For Advanced Users, the Parts Lookup Tool is Much Faster
There's certainly nothing wrong with using the menu-based filtering system employed on the left-hand side of the parts lookup tool, but it's not the most effective way to search for parts if the buyer is advanced and knows exactly what they require for engine maintenance. In that case, the series of drop-down menus can be skipped in favor of the direct entry method found on the right-hand side of the parts lookup tool.
The tool at Honda Lawn Parts actually allows for two different numbers to be entered by advanced Honda engine owners. The first is the model number of the engine being serviced, and the second is the exact part number required for maintenance or repair. The only drop-down menu that needs to be selected at this point is the one at the top of the form that distinguishes between Honda's many engines and the various types of power equipment sold at HondaLawnParts.com
By entering the model number, as well as the specific part number, Honda owners can simply click "Search" and wait for a list of relevant parts to be returned. When they have been returned, it's easy to click each part, view a diagram of each option, and add the best part of the job to the site's shopping cart. Checkout is easy and shipping is fast, making HondaLawnParts.com a no-brainer for professionals who require OEM parts, quick delivery, and excellent service throughout the purchasing process.