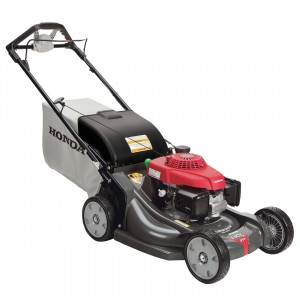 Most consumer lawn equipment is driven by price, but that doesn't mean you have to buy something big to get a quality lawn mower. Honda's HRR and HRS mowers are small walk-behinds built with the company's trademark reliability and clever design, making them a great choice if your lawn is less than an acre.
Engine
All HRR and HRS mowers are powered by a GCV160 engine. It uses what Honda calls "uniblock" construction, forming the head, block and upper half of the crankcase from a single piece of metal. The head uses a crossflow design with an overhead cam made out of resin. The valvetrain and crankshaft connect using a unique internal timing belt that is designed to last the lifetime of the motor. Together, these features make this engine extremely light with less vibration, less noise and fewer points of failure than competing residential powerplants.
Honda didn't just innovate with this engine, they put a lot of thought into making it easy to use. An automatic decompression system makes it easy to turn over when starting, while an automatic choke controls air flow as the engine warms up. A manual fuel shutoff valve prevents spilling and carburetor flooding during transit. It also makes it easy to empty the fuel system when storing, preventing issues with corrosion and gumming. A long filler neck acts as both the drain and fill point for oil. To drain, just tilt the mower over a drain pan.
Cutting Performance
These mowers use Honda's Twin Blade MicroCut System. Instead of a single blade with a high, medium or low leading edge, this design uses a pair of blades stacked on top of each other with different edge profiles. With each pass, blades of grass are cut twice, resulting in smaller clippings from the start. When mulching, this dual action cut breaks down grass faster, making it more effective than other designs, even when cutting wet grass. Smaller pieces also compact more, so emptying is less frequent when bagging.
All HRR and HRS mowers come with a 21-inch cutting deck with 6 cutting heights ranging from 1 1/8 to 4 inches.
HRR mowers use a 3-in-1 cutting system controlled by Honda's Clip Director. This system operates a door at the back of the deck, letting the mower switch between mulching, bagging and rear discharge by turning a single lever. No tools are required to switch between modes, and there's no chute or mulch plug that needs to be installed on the side of the deck. The included bag holds 1.9 bushels.
Smart Drive
Self-propelled models come with Smart Drive, a compact hydrostatic drive system. Like the hydrostatic systems found in riding mowers, it allows infinite speed adjustment on the fly. This makes it easy to slow down for hills and obstacles, then speed up when you're mowing straight on level ground.
This drive system is operated by levers that can be set to one of 5 positions. Mower speed is adjusted by pushing down on the thumb pads. This allows multiple hand positions, reducing fatigue.
Other Features
The folding Quick Release handle has two operating positions and is locked into place with large knobs, requiring no tools to change position. The rear wheels on both push and Smart Drive models are mounted on ball bearings for lower effort when pushing and smoother movement.
Models
HRS
These basic mowers are designed for side discharge and mulching. The HRS216PKA is a no-frills mower weighing just 64 lbs, making it easy to push and turn, while the HRS216VKA comes with the Smart Drive self-propulsion system.
HRR
These models are designed for bagging as well as mulching and discharge, and every model has a system to stop the blade when stepping away from the mower, making it safer to work around.
The HRS216PKA is a push mower with a flywheel brake that stops the engine shaft and blade when the bail is released, while the HRS216VKA comes with the Smart Drive system. The HRS216VYA uses Honda's Roto-Stop system. It has a PTO like a riding mower, letting the blade disengage from the drive shaft. When the bail is released, the blade stops without shutting off the engine. This saves time and effort when stopping to pick up branches and other obstacles.
Warranty
Honda guarantees these mowers and engines for 3 years of residential use or 90 days of commercial use.
Getting Parts and Accessories for Honda Walk Behind Mowers
Hondalawnparts.com has everything you need to keep your Honda mower working for years to come. Our site makes it a breeze to find parts for your model by showing parts diagrams and descriptions straight from Honda so you know exactly what you're ordering. We ship across the U.S. and Canada.