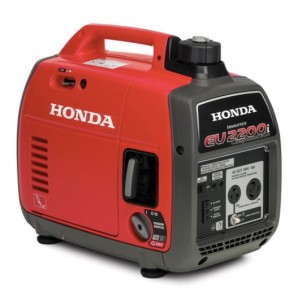 This spring, Honda is replacing their popular EU2000i generator with the new EU2200i. While it may look identical to its predecessor, it has a new engine, more power, and an easier to use design.
Power
The EU2200i makes 10% more power than the model it replaces, yet the size and weight are almost identical. In real-world use, that extra 200 watts is enough to power a 42-inch LCD TV. The extra power can also handle reactive loads better, taking the worry out of using appliances with electric motors.
This upgrade is thanks to a new engine/generator combo. It's based on the GXR120, an engine built for earth rammers used in construction. The flywheel and alternator are built into a single unit to save space and weight. Higher grade magnets in the stator are thinner and maintain overall diameter. This reduces weight and increases power output. This configuration makes one dB less noise than the EU2000i's GX100.
Increased torque lets the Eco Throttle keep the engine speeds down, further reducing noise and fuel consumption. The 0.95-gallon fuel tank can keep the generator running for 3.2 hours at constant 100% load and 8.1 hours at a 25% average load.
Output
This generator is rated at 120 volts with a steady output of 1,800 watts and a peak output of 2,000 watts. It uses an inverter with an in-house designed microprocessor to control output. This "clean" electricity is safe for powering electronics.
Convenience
Color-coded components make it easy to follow the steps needed to start the engine. Automatic decompression makes the engine easier to turn over with the pull starter.
Maintenance is also easier. A larger oil filter opening, a longer spout, and wider oil drain gutter make it easier to change the oil.
The generator includes a fuel shut off valve to burn off remaining fuel in the carburetor after use, avoiding most stale fuel issues. If there isn't enough oil in the crankcase, Oil Alert can shut off th engine before it's damaged. Redesigned case ducting maintains temperatures in high heat environments.
Models
The EU2200i comes with a 120-volt duplex outlet and a 12 volt DC outlet. Along with this standard model, there will be three other versions of this generator:
The Camo comes with a case wrapped in Realtree's APG camouflage. It has a combination of sharp and soft detail woodlands patterns to simulate depth. Otherwise, it's identical to the regular EU2200i.
The Companion can connect with all versions of the EU2200i and EU2000i, doubling available power. This model has a 30 amp, 125-volt locking plug outlet and a 20 amp, 125-volt single outlet. This generator is a great choice for backup power.
The EB2200i is designed with commercial users in mind. It meets LA-ETL and OSHA requirements and comes with 20A 125V GFCI Duplex outlet and a GFCI neutral bond.
All models weigh 46.5 lbs.
Warranty
Honda guarantees all versions of this generator for three years of residential or commercial use.
Getting Parts and Accessories for Honda Generators
Whether you plan on getting an EU2200i soon or you already have a Honda generator, you can get everything you need for it from www.hondalawnparts.com. As a certified dealer, we're able to offer OEM parts and accessories including parallel cables, covers and even transfer switches. Check out our generator accessory section, or pick your model from our search engine. It has factory parts diagrams and descriptions that let you find exactly what you need. We can ship your order to any location in the U.S. or Canada.