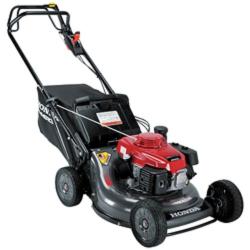 The Honda HRC Series lawnmowers are commercial grade mowers that can be divided into two different categories; the walk behind push-type and self-propelled hydrostatic drive models. The push mower and self-propelled mower were designed to manage heavy duty jobs that smaller lightweight lawn mowers can't easily accomodate. Lawncare businesses and homeowners requiring heavy duty mowing equipment, buy the HRC Series mowers when they need equipment that can handle rugged and frequent mowing jobs while providing exceptional performance.
When these models were introduced in 2004, they represented the first new commercial lawn mowers introduced in over 15 years by Honda. Since their introduction, they have proven to be reliable, durable and quiet. They are also built to last, which is proven by the fact the mowers are still sold today but with upgraded state-of-the-art features and construction.
Features
There are a number of features that make both 21" rear bagger/mulcher commercial mowers a good choice. The standard features on the push-type and the self-propelled mowers include:
16 gauge steel deck design that is dome shaped and designed to manage mulching and bagging of finer clipping.
Honda trademarked MicroCut System twin blades with 4 cutting surfaces to make extremely fine clippings
21 inch cutting width
2.5 bushel bag capacity
Easy start 4-stroke engine
Honda trademarked 9 inch NeXite lawn mower wheels
All-aluminum construction engines
Engines with cast-iron cylinder sleeve
Two stage air filter
Electronic ignition
Reinforced handles
Variable mowing heights from ¾ to 4 inches
Edge and front bumper guards
Engine that is certified as being environmentally safe and able to meet the Environmental Protection Agency (EPA)
Warranty on engine and components
The MicroCut twin blade system is able to chop the grass clippings so fine that up to 30 percent more clippings can fit in the grass bag. The ultra-fine chopping works equally well for mulching.
Extra Mower Features
The push-type and self-propelled mowers also have mower-specific features that increase performance.
The 21 inch push-type commercial lawn mower comes with the following:
Honda GSV160 OHV overhead cam 4-stroke engine with aluminum uniblock construction.Lightweight construction making the mower easy to push while still offering plenty of power
Quiet operation
Flywheel brake safety system
Dual element air cleaner
.25 gallon fuel tank capacity
The self-propelled mower has a number of features that owners will appreciate:
GXV160 OHV 4-stroke engine
Hydrostatic cruise control shaft drive transmission providing exceptional durability
Variable speed of 1.8 to 4.0 mph
Honda Roto-Stop Blade Stop System
Shaft drive so no belts to break or slip
.37 gallons fuel tank capacity
One of the excellent features on the self-propelled lawn mower is the Roto-Stop Blade Stop System. Unlike older self-propelled lawn mowers, you can stop mowing without having to turn the engine off to prevent continued propulsion. Since temporary stops are common while mowing the lawn – to remove or lift an object or obstacle, it's very convenient to take that break without having to stop and start the engine. It's also possible to push the mower while the blades are not turning which makes it easier to get the mower out of storage or to load on a trailer.
Routine Maintenance and Parts Replacement
Like any equipment, it will be important to routinely maintain the lawn mower to ensure that you get maximum life and service. Routine maintenance can usually be managed by the homeowner, and parts like blades and air filters are easy to find and purchase at www.hondalawnparts.com.
Routine maintenance includes:
Changing the oil
Cleaning the air filter
Sharpening the blades
Checking the grass bag for tears
Cleaning the mower of dirt and grime
Routine maintenance should also include a general mower inspection. For example, it is important to make sure the air filter is clean before mowing. The air filter can be cleaned several times before it will need to be replaced. Keeping it free of obstructions will make the filter last longer and help keep the engine running smoothly. During the general inspection you want to make sure the mower has the right amount of oil and check for signs of oil or other fluid leaks. It is important to make sure the blades are not clogged with grass or debris from previous mowing and that the blades are sharp and tightened.
Keeping the blades sharp is necessary if the lawnmower is to do the high quality job it was built to do. A sharp mower blade will cleanly cut the grass. A dull blade will shred rather than cut the grass. Shredded grass tips will turn a light brown and leave the grass vulnerable to disease, insects and other problems. It is also important to keep the blades sharp because dull blades do not wear evenly and can cause problems with blade balancing. Blades that create a vibration in the mower will reduce the life of the equipment.
Other parts that will need to be replaced periodically include:
Belts
Cables
Pulleys
Bolts
NeXite front and rear wheels
Oil pan
Grass bag
Proper maintenance is key if you want to maintain and extend the life of your Honda Equipment. Visit our website www.hondalawnparts.com for more information.