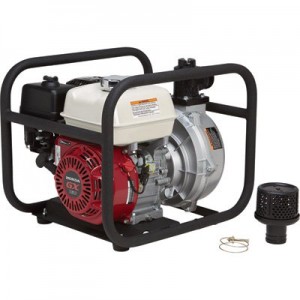 Buying a pump is easy, but it can be a lot harder picking the right hoses. Which hose materials should you choose? What about thread compatibility? What's the difference between a basket strainer and a skimmer strainer? Here's what you need to know to choose the right combination of parts to fit your needs.
Hoses
The optimum hose length is the minimum you need to get the job done. As length increases so does flow resistance, which can reduce your pump's performance.
Intake hoses need to have an internal structure to resist vacuum forces. PVC hoses are good for general use, while EPDM is more abrasion resistant, making it a good choice for trash pumps.
Discharge hoses have to withstand outward pressure, but these stresses are much lower than those experienced by the intake hose. Basic lay flat hose has a low-pressure rating, typically below 80 PSI, and is intended for pumping water downhill or across flat surfaces. When pumping water over slight inclines, look for a hose with at least a 150 PSI. As with intake hoses, EPDM lining is the best choice for trash pumps.
Keep in mind that pressure ratings for all hoses are based on an operating temperature of 68ºF. Maximum pressure will decrease in higher temperatures, so it's better to err on the safe side if you regularly pump warm water.
Connector Types
Pin lug ends use threads like a garden hose. These usually need to be tightened down with a large spanner. Hoses typically come with threads on both ends so multiple hoses can be connected using to get the right length. All Honda pumps have pin lug threads on the intake and discharge openings.
Camlock ends use a quick connect system with two cam arms that fold in to lock the hose in place. This allows the hose to be connected and removed without the use of tools. Camlock adapters can be added to threaded connectors, including the openings on your Honda pump.
Threads and Gaskets
There are two widely used thread standards on water and trash pumps: NST and NPSH. NST is National Standard Thread, another name for NFPA 1963. This thread is common on firefighting equipment. NPSH is National Pipe Straight Hose thread. It's slightly smaller in diameter than NST, and it has more threads per inch. This thread is commonly used on water and trash pumps across the industry, including Honda's pumps. Both threads are straight, so they don't self-seal like tapered plumbing threads. To make the connections water-tight, a separate seal must be added to the face of the connector.
Strainers
A strainer covers the opening of the intake hose to block materials that are too big for the pump to handle. Hole size should be chosen based on the maximum debris size your pump can handle. As for materials, plastic works well for regular pumps, while metal can withstand impacts from large debris drawn in by trash and diaphragm pumps.
Basket strainers work well for general use, while skimmer strainers are best for completely draining bodies of water. These have a low profile to pull in water until it's almost gone without starving the pump.
Get the Parts You Need to Complete Your Honda Pump
When you need OEM parts and accessories for your Honda, visit www.hondalawnparts.com. We have both complete boxed hose kits with everything you need to start using your pump and individual parts so you can build hoses for specific requirements. You can see what we have to offer on our pump accessories page, or enter your pump's model and serial number to see parts and kits that will fit your equipment. Need parts for your pump's case or engine? Our site can show you factory diagrams and descriptions so you can get exactly what you need. No matter what you order, we can ship it to any address in the United States or Canada.