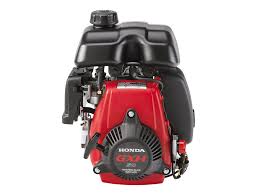 Honda's GHX50 is easy to overlook, but this tiny engine has managed to make its way into products ranging from home generator to mining equipment, and it's even found a niche in motorsports. What is it that makes this 50 cc engine popular with hobbyists and professionals?
Small Scale Power with Full Scale Features
Although Honda sells it as part of their mini four-stroke series, this engine doesn't have the oil baffle system that lets engines like the GX25 and GX35 operate at any angle. Instead, it's intended for use in applications where it will be kept upright. As the "GX" name implies, this is a professional quality engine, sharing many design features with larger models in the lineup.
This starts with an overhead valve design with an 8.0:1 compression ratio. This helps the engine generate 2.1 hp at 7,000 RPM and, 2 lb-ft. torque at 4,500 RPM, while a wide torque curve lets it run effectively at lower speeds to conserve fuel and keep it from bogging down during heavy loads. The onboard 0.8-gallon tank can keep the engine running for about 4 hours.
An automatic mechanical decompression system relieves cylinder pressure when turning over the engine. Combined with the low weight of the piston and valvetrain, the engine is extremely easy to start. It also uses a float carburetor instead of the more finicky diaphragm carburetors usually found in engines of this displacement.
Like larger engines, the GHX50 comes with a carburetor drain plug and an oil drain plug so the engine doesn't need to be tilted to drain old oil and fuel. An automotive-style paper filter protects the engine from fine debris, while an optional spark arrester makes the GHX50 legal for use in areas prone to fire. Most servicing is done at 50 hr/6 months and 100 hr/1 year intervals.
The piston is connected to a forged steel crankshaft supported by ball bearings to ensure years of trouble-free use, while the Oil Alert system shuts down the ignition if the oil level is too low, protecting the engine from premature damage. Like Honda's other engines, this motor is both CARB and EPA certified, making it legal to buy and operate across the U.S. and Canada.
The entire engine including the muffler and fuel tank measures just 8.9 x 10.8 x 13 inches and weighs just over 12 lbs. without fluids. This makes it a great choice for applications where weight and size are at a premium.
Industrial and Residential Applications
If a piece of power equipment needs to be carried by hand, there's a good chance someone has made a version powered by this engine. While used in a variety of equipment, its most popular application by far is in water pumps, whether they're built for draining mine shafts, irrigating farmland or fighting fires. Honda uses the engine into its own WX15 lightweight water pump and EU1000i inverter generator.
Motorsport
The GHX50 may seem out of place next to superbikes and race-prepped NSX's, but the company considers it to be one of its most important offerings. Most racers start their climb through racing series at a young age with go-karts, including most of the current F1 drivers. Even three-time world champion Ayrton Senna started his career behind the wheel of one of these karts.
Seeing dwindling interest in Junior Karting due to high engine costs, Honda Performance Development created a kit to adapt the GHX50 to kart use. The engine's industrial roots make running costs extremely low: despite being constantly pushed to its limit, it can last well over 200 hours between rebuilds. This gives young racers a chance to get the thrill of racing with a safe level of power that lets them hone their skills.
This has also drawn attention from other hobbyists, adapting the engine to motorized bicycles and minibikes. It's small enough to fall within displacement restrictions in most areas for road use, and since it's completely self-contained, there's no need to worry about routing a muffler or fitting a fuel tank. Best of all, it's far more reliable than the two strokes usually used in these applications.
Getting Parts for the GHX50
No matter what your Honda engine is powering, you can get quality OEM parts for it from www.hondalawnparts.com. We're a certified dealer for Honda Engines and Honda Power Equipment, letting us ship parts for their products across the U.S. and Canada. Not sure what part you need? Our site has built-in factory diagrams so you can see exactly what you're ordering and where it fits on your engine.