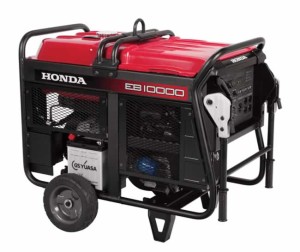 Honda's generators have always been well respected among construction professionals and those in commercial industries, but the company recently achieved a new level of excellence and recognition with its EB10000 generator model. Rental Equipment Register Magazine gave the generator its prized Innovative Product Reward for the year ending 2012, calling the generator highly efficient, innovative, and compact, in ways that the competition simply couldn't match. For high-powered commercial businesses, the generator serves as Honda's most powerful model and its flagship product.The Specs That Power Today's Largest Businesses
Honda is no stranger to packing its generators full of impressive specifications, largely because the company has never shied away from creating powerful generators in a compact package. The EB 10000 is certainly no exception to this rule, with a number of impressive specs that will make it a must-buy for those in larger facilities.
– 630cc Honda GX630 engine
– 120/204V of electrical output, with a maximum of 10,000 watts
– 76db noise level that won't interfere with business operations or communication
– A relatively low weight of just 403 pounds
With specs like these, it's clear that Honda has earned its Rental Equipment Register Magazine award. The generator is more powerful than virtually every other model on the market, but it maintains a small size, very little noise for its class, and a lighter weight than many generators that produce even less power. For most business owners, "impressive" would be an understatement.
Great Features for a 21st Century Generator
It might be hard to imagine that a generator could be highly technological, but the Honda EB10000 actually does benefit from new technologies that give it a serious edge over the competition. One such feature is the generator's Digital Automatic Voltage Regulator. This unique system actually works to maintain consistent power and voltage during operation, within a range of plus or minus 1 percent. Consistent power is the key to efficient operation during power outages or other events, and it ensures that machinery won't suffer from surges when the generator is in use.
A full seven outlets are featured with this model, which also boasts an LCD information panel that can display performance information and problem diagnosis. An included wheel kit, as well as easy-to-use side handles, makes the generator easy to transport when it's needed the most.
A Number of Great Benefits When Choosing the EB10000
Most commercial business owners have long accepted the fact that noise levels will have to be compromised in order to use a powerful generator during blackouts or other emergencies. This acceptance, though, might have been a bit premature. Though Honda's EB10000 serves as the single most powerful generator available, it also is ranked as the quietest in its class. That's no small feat, especially given the size of the generator and the power that Honda packs in the GX630 engine it uses.
At just 403 pounds, the EB10000 is also extremely light when compared to the relative amount of power that it provides to commercial businesses and industrial customers. While 403 pounds is certainly not "light" to any mere mortal, it is light enough to make the generator easily transportable using the included handles and wheels that come with each model.
For New Generators and Replacement Parts, Always Go OEM
Though the Honda EB10000 is sold as a highly durable generator for serious business customers, it will require the same amount of maintenance as other models on the market. Additionally, the generator may sometimes require simple repairs after being in use for a great deal of time. When maintenance or repairs become required, EB10000 owners should always choose OEM replacement parts instead of aftermarket varieties.
With OEM replacement parts, Honda owners can rest assured that they're using parts manufactured and approved by Honda itself. Those parts are made in Honda's own factories, and they're assuredly more durable, affordable, and compatible, than anything produced by off-brand manufacturers looking to compete more on price than longevity. OEM replacement parts are just as easy to find as aftermarket alternatives, and they'll promote a lower overall cost of ownership over the lifetime of their installation into the generator.
At Honda Lawn Parts, Plenty of OEM Options and Generators for All
Contact a www.hondalawnparts.com expert for all replacement parts questions.The company deals exclusively in Honda power equipment, allowing it to maintain an expert approach to sales and service that will far exceed what the competition has to offer.
Best of all, Honda Lawn Parts is a leading source for OEM replacement parts that can keep Honda's award-winning commercial generators in perfect condition for many years to come. For the right combination of new equipment and replacement parts, be sure to stop by HondaLawnParts.com first.