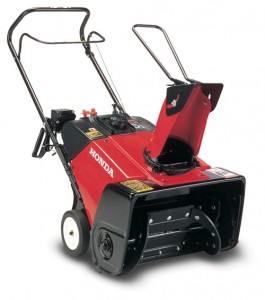 You've decided to get a Honda snowblower, no doubt because of their reputation for high quality and industry-leading engine design. It also doesn't hurt that anything you might need for your future purchase is available at www.hondalawnparts.com. That just leaves one question: Which one? There's more to consider than just price. Some models are better suited for driveways, others for rough terrain and still others for major jobs. Whether you're looking for something to keep your driveway clear or you're buying something for a business, Honda has a machine that will be perfect for your needs.
The Three Major Types of Snowblowers
A single stage snowblower, sometimes called a "snow thrower," uses a high speed
auger
to scoop up snow and force it through a chute at the top. This simple design makes these snowblowers light, compact and inexpensive.A dual stage snowblower adds an impeller. This picks up the snow from the auger and hurls it through the chute, moving it further than what is possible with a single stage snowblower. Dual stage snowblowers also have
skid shoes
which can move the auger closer or further to the ground, allowing it to pass over small obstacles.While most of Honda's snowblowers have wheels, there are also models with track drive. Tracks get better traction on a variety of surfaces, and since they provide a steady platform for the blower, the auger housing can be moved up and down as needed to avoid obstacles.
Which one is right for you? It depends on where and how you are going to use it.
What kind of surfaces will the snowblower be used on?
Any snowblower will work fine on paved surfaces. A two stage snowblower can be adjusted to remove snow from gravel areas without picking up rocks. The adjustable auger housing on Honda's track snowblowers make them safe to use on flat roofs.
How much space needs to be cleared?
HS720 series single stage snowblowers are perfect for one or two garage driveways and can easily move through narrow spaces like sidewalks. For bigger jobs, the added width of Honda's two stage snowblowers will do the job a lot faster. They can also handle larger snowdrifts, especially when fitted with drift breakers which help knock taller snow down into the auger. The HS720AS sits in between these two categories: it's a single stage snowblower, but it can handle snow up to a foot high and clears 20 inches with each pass, matching the performance of small two stage blowers without the added weight.
Track snowblowers have better traction making them ideal for hilly areas and packed snow. Since the auger housing to be lifted higher than wheeled models, track models are a better choice for tall snow and difficult terrain.
Do you want Electric Start?
Honda's engines are renowned for easy cold starts, making pull starts less of a chores than other models. However, the company offers several models with electric starters that can be powered from a household outlet using an extension cord.
Want electric start, but don't have ready access to an outlet? The HS1336iAS snow blower has a 12 volt battery that can power the starter without needing an extension cable.
Do you need a snowblower that does it all?
Why does the HS1336iAS have battery start? It's a hybrid snow blower that uses the engine to directly power the auger and impeller as well as charge the batteries. The electric power is used for the motors that turn the tracks. This keeps the snow blower from bogging down when it starts moving snow and allows it to be moved around with the engine off, which is more than enough reason to consider it for tough jobs. Although overkill for most buyers, there isn't anything on the market that can touch this model's performance.
The experts at
Honda Lawn Parts
can help you figure out which snowblower will best suit your needs. Whether you need a large snowblower or small, they have it all. And when the time for repairs or
replacement parts
comes, Hondalawnparts.com has a great online parts search tool that enables you to identify, locate and purchase the parts that you need.