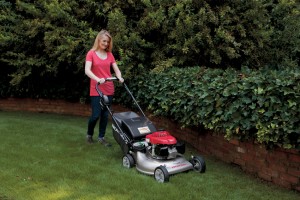 The key to getting that professionally manicured lawn look is a combination of careful planning and having the right equipment for the job. You can't accomplish a professional looking lawn without the help of a strong mower, an edger, and a trimmer to clean things up. Here are a few tips to get your lawn looking like it belongs in a magazine.
Cut Longer
Many people feel the urge to cut their grass too short, thinking that it will save them time by not having to mow as often. Instead, cutting grass too short allows the soil to dry out quickly, leading to unhealthy roots and poor coverage. By leaving grass 2-4 inches long it provides adequate shade to the ground, keeping things moist and ensuring that roots grow better. The end result is fuller, lusher grass all around.
Maintain Your Mower Blades
Many times homeowners go to the store and pick out the first mower they see, take it home and use it until it just stops working. This means replacing equipment every other year and never getting the perfectly trimmed look you want. Instead, make sure you invest in a high-quality mower and take the time to do regular maintenance, including sharpening the blades. Dull blades damage grass without giving you a clean cut, leaving behind broken stalks and a messy look.
Plan to Cut Often
Leaving your grass 2-4 inches long means that it will grow better, but that does mean you will have to cut more frequently. Make sure you plan accordingly and set aside time to get all areas of your lawn under control on a weekly or bi-weekly basis. For a total facelift, leave yourself plenty of time to pull out the edger and trimmer to clean up the lines along your walkways, fences, and foundation.
Use Your Trimmings
Grass clippings are an important source of nutrients for the remainder of your lawn. They decompose and provide extra nitrogen as they break down. Make sure you keep your grass clippings on your lawn and don't blow them out into the street as they can have a negative impact on water quality in the area. Also, watch out for weeds and crabgrass, which tend to spread as mulching distributes their seeds.
Crosshatch and Striping
The striping effect commonly seen on golf courses is created using rollers or rubber flaps that bend the grass blades in the direction the mower is moving. To achieve this look, you must carefully plan out your mowing yard and ensure that you are keeping your lines straight as you go up and down. Some mower manufacturers now offer roller kits to add to your walk behind mower to achieve a cleaner look.
Where to Buy Replacement Parts for Your Honda Lawn Equipment
No matter what your level of mowing expertise, the team at Honda Lawn Parts wants to help you achieve your lawn care dreams. Having a professional looking lawn is just a few steps away when you have the right equipment and parts from hondalawnparts.com. Visit them online to see their selection of mower parts to whip your lawn into shape this summer. Don't forget to check out their selection of OEM replacement parts for trimmers, edgers and other outdoor equipment to finish the job!