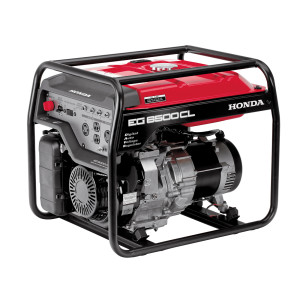 Choosing a generator for the home is no easy task, with a wide variety of models that differ in wattage, run time, size, and portability. Homeowners typically have at least a few great options to choose from when selecting Honda as their brand of choice, with generators that can light up the whole house or provide electric current only to the most essential parts of the home, like HVAC systems and security monitoring systems.
Choosing between the available models offered by Honda is pretty straightforward, with each generator and model series offering unique advantages that will appeal to various kinds of homeowners. Here's what to know when deciding between the options currently offered to consumers.
Choose the Right Wattage
There are generally two distinct models of generator purchased by consumers from Honda for use around the home. The first is the company's EU series of generators. Those generators come in wattage ratings of 1,000 watts at the entry level, 2,000 watts for mid-level generator, and a full 3,000 watts for the high-end EU series generators. These models are great for homeowners that are looking to power their heating and air conditioning systems, an alarm or home monitoring system, and a few power backups to keep PCs on to prevent data loss. One exception to this rule is the EU6500iS, which provides as much as 6,500 watts of power to the home. That's enough to enable true electrical multi-tasking in case of an emergency. Another strong contender for the Honda home generator buyer is the EM series, which provides a minimum of 4,000 watts of power to them home with the EM 4000S. Higher-end models can provide between 5,000 and 6,500 watts of power to the home, making it fully functional during power outages.
Generator and Engine Size, Overall Weight, and Mobility Decisions
The great thing about virtually every EU series residential generator sold by Honda is that they're highly compact and easy to transport around the home. In fact, these generators are among the smallest models sold by any major power equipment manufacturer. The company sells wheels, cases, and covers for these generators as well, further enhancing their mobility and practicality for home use.The EM series comes with slightly larger engines and a bigger overall footprint. These generators are also a great deal heavier than the EU series, and are ideal for permanent outdoor installation with the proper covers. Mobility is enhanced with built-in wheels, but frequent relocation of the generator is generally not a good idea. That said, the EM series provides the best combination of home power and long lasting run time, making its size well worth the reduced mobility.
Run Time and Fuel Tank Capacity Considerations
Another key concern when choosing a generator is the amount of time the generator can power the home without requiring additional fuel in order to keep operating. The EU series of generators tends to include a rather small fuel tank, making it good for supplying minimal amounts of power or functioning continuously for a shorter amount of time.
By comparison, the fuel tanks paired with the EM series of generators are generally quite a bit larger. That allows for longer operation even when the generator is putting out its maximum rated wattage for use within the home. Larger fuel tanks do add to the heft of the generator, but that's par for the course in terms of the Honda EM line of residential models.
Recoil Start vs. Electric Starters
There's nothing more convenient than push-button electric starters, but they come with a number of drawbacks for generators. Namely, the fact that push-button starts can be impractical and unreliable when the power is out. That's a chance many homeowners don't want to take. Even so, many Honda generators come with a backup recoil option that allows for great versatility and virtually foolproof starting of the generator no matter the conditions that require its use.
HondaLawnParts.com is a Great Choice for New Generators and Replacement Parts
Consumers in the market for a home generator have few choices better than Honda's models, and few better choices during purchase than HondaLawnParts.com. As the company's name might suggest, the website is fully invested in Honda's power equipment products, with a wealth of product knowledge and support expertise that can help during critical decision-making moments.
For those homeowners who already own a Honda residential generator, the company has a wide selection of OEM parts that will keep the generator running in great shape for years to come. OEM parts are those made by Honda in its own factories, held to the highest quality assurance standards and rigorous checks for defects or other problems. All told, it makes HondaLawnParts.com a great way to decide between numerous competing Honda models.