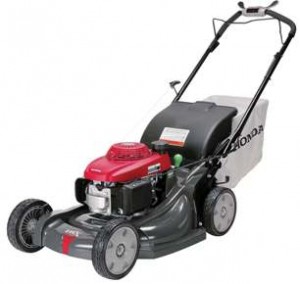 One of the things that sets Honda lawn mowers apart from the company's competitors is that Honda mowers are said to be "very smart." Honda has spent their time in the industry focusing on research to boost usability, efficiency, power, and convenience, all while coming up with some of the most in-demand mowers on the market. Today, the company offers unique technologies that span from one-of-a-kind drive systems to twin blade mowing functionality and beyond.
Better Use of Mower Engine Technology
One of the unique advantages that Honda has over its competitors is that the company manufactures both lawn mowers and the engines that power them. Other companies rely on third-party vendors to supply engines, which reduces the amount of research and fine-tuning that they can do when producing an efficient, powerful, and cohesive product. To that end, Honda offers some of the most efficient engines around, all of which have been certified to meet the emissions standards of all 50 U.S. states.
Beyond low emissions levels, however, Honda's engines have quite a few other "smart" features. Many of the company's engines work with an electric start system, and actually feature a self-charging method of operation that keeps the engine going for a longer period of time than competing electric models. This can even reduce or eliminate the need for traditional wall outlet charging during or between mowing jobs.
Honda's reputation for durability can be found in its mowers as well as its engines, and the company's control over its engines means that each mower is paired with a finely tuned model that works best with the mower's drive system, size, mowing requirements, and target audience. The experience is simply more cohesive and more detail-oriented than most other manufacturers' walk behind mowers or riding models.
Twin Blades Boost Lawn Health and Aesthetics
Homeowners and businesses that are particularly detail oriented will appreciate Honda's "smart" twin blade system, which can be found on virtually all riding mowers and walk behind models that the company currently sells. Unlike competitors, which offer a single blade for routine mowing, Honda puts two blades almost directly on top of each other. This allows the lawn to be cut more consistently, with a uniform height and an aesthetic appeal that goes above and beyond what most customers are used to.
The twin blade system also works better for mulching lawn clippings and returning them to the ground, which can help infuse the remaining blades of grass with added nutrients that will cultivate a healthier, fuller, greener lawn throughout the spring and summer. Finer blades of grass also improve the bagging experience for homeowners who prefer to dispose of clippings. More clippings can fit in each bag, meaning fewer interruptions are required during an average mowing task.
Honda's Focus on Technology Makes Mowing Easier
Smarter mowers are those that more fully embrace technology, and that's where Honda mowers really exceed the competition. The company offers numerous improvements over competing walk behind mowers and riding models, including its innovative Roto-Stop feature that allows the engine to remain on even while the mower's blades stop spinning. This is perfect for emptying clippings or removing obstructions without having to fully restart the mower.
Features like cruise control and the Smart Drive variable speed control system make it easier to conquer even larger lawns, setting the mower in motion quicker and more accurately than competing systems. Adjustable throttles and an auto choke system round out the company's tech-minded focus, making it easier to start the mower or keep it idle for a few moments while performing other essential landscaping tasks.
Attention to Smaller Details Rounds Out Honda's "Smart" Mowers
While the "big" features, like customized engines and hydrostatic cruise control, are likely to win over a large number of businesses and homeowners, Honda hasn't forgotten about the little things, either. The company has worked over time to develop a more efficient process for either discarding or bagging clippings, branding it as the Honda Versamow system. Homeowners can bag or mulch clippings, or do some of both. They can also choose to shred leaves and other foliage on some models.
Ergonomic handles make walk behind mowers a bit more enjoyable to use, and the company's weighted bags ensure that clippings can be stored and then dumped with ease. Without this weighting system, clipping containers can be awkward and unwieldy, leading to time-consuming removal, dumping, and bag replacement.
A Smarter Mower for a New Generation of Homeowners and Businesses
The Honda mower technologies found on today's models are among the most innovative in the industry, making the company's mowers a logical choice for many homeowners and businesses. Of course, the company backs its high-tech mowers with a long-standing nationwide network of retailers like HondaLawnParts.com, where customers can find a wealth of OEM parts, plenty of Honda mower knowledge, and a commitment to prompt customer service. This is simply the right blend of innovative technology and traditional customer support.