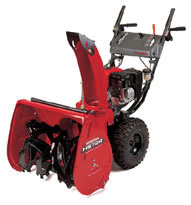 When it comes to keeping a Honda snowblower in great shape throughout the winter season and even during summer storage, nothing is more important than having the right parts and fluids on hand for routine maintenance Whether it's the right kind of fuel or the proper procedure for inspecting and replacing a spark plug, these crucial parts and procedures are absolutely essential when ensuring long-term snowblower durability and utility. Here's what snowblower owners need to know in order to keep their equipment functioning at peak efficiency throughout the winter and for many years to come.
Safety Comes First When Working with Snowblower Parts
Honda snowblower's are exceedingly powerful, and that means they have the capacity to inflict serious injury on operators who aren't careful during maintenance work and repairs. Before working with snowblower parts and fluids, ensure that the equipment has had time for its engine to cool off if it was recently used. Also make sure that the snowblower is placed on a flat, level surface, and that it's in an area with excellent ventilation. If working with sharp or moving parts, wear protective gloves and eyewear as needed in order to reduce the risk of serious injury on the job. With that in mind, here's what operators need to know about key snowblower components.
1. Fuel Concerns
Honda snowblowers are not designed to work properly with diesel fuels, and they generally don't run very efficiently when paired with a high-ethanol gasoline mixture. Instead, the company recommends keeping ethanol to less than 15 percent of the gasoline used to power the equipment. Furthermore, Honda recommends a fuel with a minimum octane rating of 86 for the best possible efficiency and fuel economy. Higher-level fuels are certainly welcome in the snowblower's fuel tank, but equipment owners should always observe the 86-octane baseline.
2. A Primer on Engine Oil
Engine oil should be checked prior to each use of the snowblower throughout the winter, with full oil changes being conducted roughly every 30 hours of active equipment use. Furthermore, Honda recommends an oil change at least once per season. This can be done either immediately prior to storage or immediately after the equipment is removed from storage each winter.
The recommended oil type for virtually all Honda snowblowers is 5W30, thanks in no small part to this oil's superior performance in cold weather conditions. Oil brand is not important, but oil type should be strictly observed for maximum efficiency and reliability.
3. Hydrostatic Transmission Oil Levels
Transmission fluid should be checked routinely in order to ensure that the equipment's self-propulsion mechanism continues to function efficiently and without damage. Operators will notice that transmission fluid tends to expand and contract based on temperature, but this is accommodated by the "low level" and "high level" measuring guides on the snowblower itself. In the event that transmission fluid falls below the "low level" indicator, Honda recommends using only the company's own, OEM Honda hydrostatic transmission fluid when refilling to the recommended level.
4. Spark Plug Checks and Concerns
Routine maintenance of the spark plug will make it easier to start the snowblower all winter long. Honda recommends a spark plug check before roughly each use of the equipment. This check involves measuring the spark plug gap and adjusting it if necessary, and it often means cleaning away any carbon deposits or dirt build-up that may have accumulated during a prior snow clearing task.
5. Tracks and Tires
Track deflection is crucially important to snowblower performance. Test deflection regularly, by sitting the snowblower on its tracks and pressing downward between the two wheels with a force of 33 pounds. Ideally, the deflection will measure between 27 and 33 millimeters.
Tires should be inspected at this time as well. Check the sidewall of each tire for scratches, scuffs, holes, or other damage, and make sure that each tire's air pressure is in line with Honda's recommended pressure levels. If there is any damage, replace tires immediately. Be sure to fill tires to the proper air pressure reading if necessary.
6. Auger and Blower
The auger, auger housing, and blower should be inspected routinely for damage and wear that can often be caused by debris during snow clearing. Furthermore, inspection of these parts is a crucial way to prevent clogged snow and ice that might otherwise prevent the snowblower from effectively clearing and discharging snow after a major winter storm.
7. Shear Bolt
Shear bolts should be inspected during the auger and blower inspection. If they show signs of wear, or if the shear bolts themselves have been sheared by merely using the snowblower, they should be replaced with OEM Honda parts as soon as possible.
It May Be Time to Buy New Honda Snowblower Parts at HondaLawnParts.com
In many cases, a quick inspection of the snowblower will reveal at least one part that needs to be replaced so that the equipment can continue functioning efficiently. When that time comes, HondaLawnParts.com is a great place to find OEM parts for the HS624 and several other models, with an online parts lookup tool that makes it easy to locate and purchase each required part.