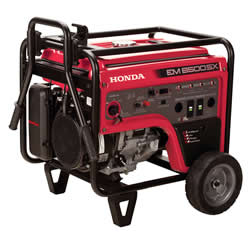 A generator makes remote work easier, gives you more options when camping and be a lifesaver when you lose grid power. However, if they aren't used correctly, they can be dangerous: the CDC estimates around 70 people die each year due to generator misuse. With a little preparation, you can set up your Honda generator to provide the power you need without the risk.
Carbon Monoxide
Dozens of people die each year from carbon monoxide poisoning caused by using a generator.
This odorless gas fills up the spaces on red blood cells that normally carry oxygen, causing asphyxiation. These deaths are caused by using the generator inside or too close to a house. If the engine is inside a garage, the exhaust gases can collect, building up lethal levels of CO.
Why does this happen? Partly it's because people don't realize the danger, and partly because they don't plan ahead to use their generator outdoors. If you're getting your first generator when you face a major power outage, this probably isn't going to cross your mind. When you buy a generator, you also need to buy the extension cables needed to get the power where you need it while still keeping the generator in a safe place.
To be safe, the generator should be at least 20 feet away from doors, windows and vents. Plan accordingly, pairing the generator with cords that will carry current into the house where you need it.
Picking the Right Cables
The extension cables you use with your generator should be able to carry the maximum current rated for the outlet, be rated for outdoor use, and the insulator on extension cables should be made out of TPE. Product labeling can be confusing, but you can find the information you need printed on the cable itself. If you see the letters "S," "E" and either "W" or "W-A," it meets these requirements. If you see an "O" or "OO," the cable is also oil resistant, which is good if the cable will be running through a garage.
The wire itself should be thick enough to handle high current loads. Look for "AWG" on the cord followed by a number. This is the wire gauge. A 14 or 12 gauge wire can handle 10-15 amp loads, while 10 gauge can handle loads over 15 amps.
GFCI and Shock Prevention
Most 120-volt duplex outlets on Honda generators come with a Ground Fault Circuit Interrupter (GFCI). This device cuts the circuit if a fault is detected, which can happen if there is a short caused by a failing appliance or a damaged cable. Test the outlet before each use by pushing in the "Test" button. If the reset button pops out, the GFCI is working. Push the reset button to re-enable the outlet. If the red light next to the outlet is blinking, the GFCI has failed and needs to be repaired before the outlet is used.
Protecting the People Restoring Your Power
While you may be safe from electrocution, improper installation can put line workers in danger. If you have your generator wired into your home electrical system, you are legally required to have a professionally-installed transfer switch. This device cuts off the house wiring from the grid, preventing electricity from your generator from reaching outside lines. Without it, a worker could pick up what should be a dead line and be electrocuted.
Fires
Running out of fuel in a mower is a good excuse to take a break, but if you're using a generator for emergency power, you probably want to keep the engine running. If you have a small spill onto a hot or running engine, the resulting fire could put you in the emergency room. Even enclosed generators can have fires as the result of spilled gas dripping between the maintenance covers or onto the tailpipe.
When it's time to add more gas, shut off the generator and let the engine cool for 15 minutes. This reduces the chance of starting a fire if fuel drips onto the engine or exhaust.
Move the generator 10 feet away from where you were using it before refilling. Once the tank is full, move it back to where it was. This prevents leftover fumes from igniting when you restart the engine.
Get the Quality Parts and Accessories You Need for Your Generator
Hondalawnparts.com is a certified dealer for Honda Power Equipment and Honda Engines. We carry parts as well as OEM accessories including transfer switches, covers and extension cords. Need help finding the right part? When you select your model and serial number from our search engine, our site will show you factory diagrams and parts listings specific to your generator. We can ship what you need to any address in the United States or Canada.