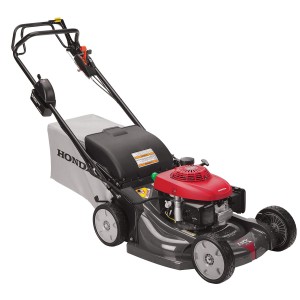 Sure, there are cheaper mowers on the market, but they aren't Honda lawn mower. The ad copy says these mowers are "SMART:" Simple, Money saving, Adaptable, Reliable and Time saving. In all honesty, that's true: Professional and home owners choose them because not only do they bring Honda's legendary reliability to the table, they're also built to be effective and easy to use. That means less hassle all around from starting the engine to dropping off clippings.
There's a Reason It's Called Honda "Motor" Company
Since the first Dream motorcycle rolled off the assembly line in 1949, Honda has built up a reputation for building some of the best motors in the world for everything scooters to corporate jets. Today, they're the world's largest manufacturer of engines, selling 23 million units per year worldwide.
That same expertise extends to their power equipment, most of which is designed at Honda's Power Equipment Division headquarters in Alpharetta, Georgia and their state-of-the-arts Research and Development Center in Haw River, North Carolina. Utilizing the same tools available to Honda's vehicle divisions, they've created a line of 29 engines with over 400 variations to perfectly fit each application.
Every mower Honda sells meets EPA Phase 3 and CARB regulations. That means they can be used in every state in the U.S. and every province in Canada. It also means less confusion when it comes to maintenance, since there aren't several different emissions versions requiring different parts.
Advanced Design
There's more to a Honda mower than just the motor. The same innovation that has made them a leader in powerplant design is used throughout each model to make them as efficient and easy to use as possible.
Roto-Stop Blade Stop System – Let go of the handle and the blade disengages without shutting down the engine. That means not having to restart the mower every time you have to stop to empty the bag or move obstacles out of the way. These are just some of the features that are unique to their lineup:
Versamow System – Mulch, bag, shred leaves or discharge clippings without having to install attachments. Want to mulch, but don't want clumping? The Clip Director opening can be adjusted to bag some of the clippings, leaving just enough to fertilize the lawn.
Cruise Control Hydrostatic Transmission – This compact transmission delivers all the reliability and usability of hydrostatic transmissions used in professional riding mowers. Fluid-based power transfer means smooth engagement, while the separation between the motor and drive wheels allows constant full throttle mowing with variable speed control.
Select Drive variable speed control – Set the control knob to the desired speed, and the mower will move at that speed as soon as you close the handle.
Smart Drive variable speed control – The speed control uses a lever system placed on the handlebar within easy reach of either hand for quick adjustments.
Auto Choke System – The choke and throttle are controlled automatically. Just pull the starter cord and go.
Adjustable Throttle Control – Set the engine to idle speed to move the mower or empty the grass bag, then go right back to the previous setting as soon as you start mowing again.
Easy to Use Design
Both high and low tech solutions can make a big difference in how easy it is to use a mower, and Honda doesn't skimp on either:
Twin Blade Mowing – Mulching and bagging is limited by clipping size, and getting small size in traditional designs means keeping the grass in the mowing chamber as long as possible. Honda has been able to sidestep this with a unique twin blade design that immediately splits clippings as they are cut from the grass and then doubles the cuts made with each pass through the mowing chamber. That means better compacting for more onboard grass storage and better mulching, even under adverse conditions.
Grass bags – Honda's are balanced so that they're easy to remove, even when fully loaded. The bag slides off without having to move any buttons or levers, which means less time is needed to empty the bag and get back to mowing.
Ball bearing supported wheels – You'll never find a Honda mower using plastic wheels riding on metal rods. They're mounting on bearings for a precision fit and low friction, which means no rattling, smoother rolling and greater durability.
Buying Parts Online
Even getting parts for a Honda mower is easy, thanks to www.hondalawnparts.com. They aren't just a sales website: they're an actual brick and mortar OEM Honda dealer with a professional parts staff. Know what you need, but not sure what it's called? They have full parts diagrams so you can match what you're looking at with a part number and description. Need some advice? Contact their helpful staff directly from the website. Live in Canada? They ship there, too. In fact, their massive warehouse lets them ship almost any part immediately, and most times shipping is a low flat rate.