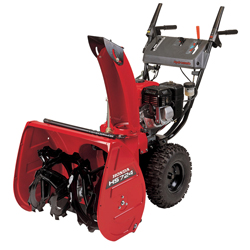 Summer is officially over, and winter is on it's way across the United States, so it's time to start thinking about your snowblower options. Snowblowers are capable of digging out a car, clearing a path out of the house, or preventing dangerous slips and falls after a storm.
Generally, consumers to consider snowblowers in two different categories. The first is a single-stage snowblower, which is good for light-duty jobs and even some moderately heavy ones; the second is a two-stage snowblower, good for areas where the snow is relentless and lasts for more than a few weeks in the middle of January.
Each of these snowblowers has its clear benefits and disadvantages based on where the buyer is actually located, and how their weather patterns typically stack up during the coldest month of the year. Homeowners will be pleased to know that both single stage and two stage models are sold by Honda. The company has long been associated with some of the most dependable and long-lasting snowblowers on the market, and their latest models are no exception.
The Single Stage Snowblower: A Good Choice for Most Americans
Honda's two single stage snowblowers are perfect for homeowners who live in all but the northernmost region of the country. These durable models use curved paddles to move snow into the machine and then blow it out to either side of the snowblower itself. Single stage snowblowers like the ones sold by Honda are typically powered by electricity, rather than gasoline, and can be easily started in even the coldest temperatures.
Most people familiar with Honda's single stage models will note that they're rated as "light duty" snowblowers, but that they're capable of higher performance than might be advertised. Indeed, these powerful snowblowers are able to take on even moderate snowfall events of several inches. Their rotating paddles can deal with both powdery snowfall and heavier, wetter snowfall throughout the winter season.
Best of all, Honda's single stage snowblowers don't compromise utility for lightweight construction and easy operation. Though they're definitely easier to carry and move than two stage snowblowers offered by the company, they still provide 20 inches of clearing space that will help to clear wide, efficient walkways and dig out vehicles quickly. While two stage snowblowers tend to be much heavier and harder to handle, single stage models are self-propelled; that makes it easier for homeowners of all ages and abilities to quickly clear snow and get back to life as usual.
Two Stage Snowblowers: A Good Idea for the Snowiest Climates and Heavy Duty Jobs
Unlike single stage models, the two stage snowblowers sold by Honda are named because the first feed the snow into the system using an auger, and then expel the snow outward much like their single stage counterparts. The auger is subject to the whims of a shear pin, which is designed to break and halt the machine's operation if anything larger than the typical snowball gets lodged in the machine during intake. These models, while occasionally used by homeowners, are more often considered heavy duty industrial machines that are more suited to clearing things like municipal sidewalks, small parking areas, and other larger spaces.
For home use, the two stage snowblowers sold by Honda are partially self-propelled in order to allow for easy operation. The company also sells several models that expand on the width of the single stage snowblowers, clearing widths that go up to 35.6 inches. At their highest levels, Honda's two stage snowblowers are capable of moving 83 tons of snow per hour – clearly making them perfect for businesses and commercial property owners, as well as those who live in the northernmost parts of the United States and beyond.
For the Best Value and Performance: Single Stage is the Way to Go
Though the power and performance of Honda's single stage snowblowers is impressive, to say the least, those models are often too bulky to fit into homeowners' garages and budgets. Beyond that, their wide snow clearance and large processing capacity makes them far more powerful than what the average homeowner or tenant will ever have to do during a typical winter. Single stage models are highly affordable and they're easy to store and use. Their smaller width — at just about 25 inches, in total — makes them easy to fit into even the smallest garage.
And, of course, their highly efficient operation and electric power means that they'll be easier to start in the winter and they'll be cheaper to operate even during the snowiest months. For those buyers who find themselves clearing snow just a few times each year, a single stage snowblower can get the job done just as capable as a two stage model, but with less effort, energy use, and bulk.
If already own a Honda Snowblower and you are searching for parts online. www.hondalawnparts.com site has a great, user friendly online parts lookup tool. It makes finding and ordering parts for your Honda Snowblower a seamless, easy transaction.