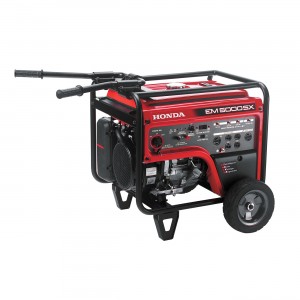 When selecting a Honda Generator, you need to select the model that will best suit your expected needs. Typically, there are three uses for Honda Generators:
1.) As a Home Backup Generator
2.) As a Recreational Use Generator
3.) For Industrial or Construction Use
Recreational and Home Use
The Honda EM and EU series of generators provide excellent solutions for recreational use generators. These smaller capacity generators will also provide power to some home appliances in the event of a power outage. With portable EU series units starting at a 2000 wattage output to larger wheel mounted units with outputs of 6500, the EU series is ideal for use as home backup power. EM units offer more portable power and are excellent for industrial and construction use.
The EU Series
The EU 2000i
The smallest EU series unit, the EU 2000i, has a handle for easy carrying. This unit makes efficient work out of it's one gallon fuel capacity, with an expected run-time of 9.6 hours on one gallon of fuel. The EU 2000i will power a TV, satellite, a coffee pot, a refrigerator and more. This generator is very quiet and includes an inverter to safely power computers and other electronics.This small Honda Generator is the perfect choice for smaller households as a backup power source. The unit is ideal for 120 volt appliances and electrical devices.
The EU 3000i and 3000iS
The EU 3000i Handi is a 3000 watt model that is easy to transport with a collapsible handle and wheels. The unit is extremely quiet and is designed to be lifted easily with the offset handle design.
The EU 3000iS is Honda's 3000 watt model that includes an electric starting switch. This unit holds 3.4 gallons of fuel and runs for up to 20 hours on one tank. This quiet model provides sufficient power to run the furnace and most 13,500 BTU RV air conditioning units. This unit is also equipped to power 120 volt devices and appliances such as microwaves, a refrigerator, and more.
The EU 6500iS
The EU 6500iS is the deluxe EU model that provides 6400 watts of power for 120 and 240 volt backup. The EU 6500iS is the perfect home backup power source. However, this unit is also excellent for recreational/RV's, for use at job sites and for outdoor events. Mounted on wheels and easy to transport, this unit has a 4.5 gallon fuel capacity which will supply backup power for up to 14 hours. Equipped with an electric starting switch, this unit includes the Honda power inverter to supply electricity to computers and other electronic devices.
Home Backup Systems
The EM Series
The EM series generators output range starts at 4000 watts up to 6500 watts.This series of generators is manufactured to accommodate backup power to homes and to provide consistent power to work sites and outdoor events, as well.
Industrial and Commercial Use
The EB Series
The EB series is designed for industrial and commercial use, utilizing the Honda OHV commercial grade engine. Each EB series generator is designed for rugged conditions with full-frame protection. This series offers output ranges between 4000 and 6500 watts. For starting and running heavy, industrial equipment, the EB series is the perfect choice.
Additional Factors When Selecting A Generator
Additional factors, such as the noise level and the fuel efficiency of the generator should also be considered. If the generator will be moved, ease of transport and the size of the unit are also considerations.
Noise Level
For the lowest noise level and quiet operation, select an EU series generator.
Ease of Transport
All Honda Generators are designed for portability. The EU series is manufactured with handles and ideal for transport.
Unit Size
The smallest EU series generators, the EU 2000 and 3000 models, are the most compact models. These units are portable and may be easily lifted onto a table top or truck bed. Larger units are mounted on wheels for better maneuverability.
Honda manufactures generators for all applications. In addition, when you purchase a Honda Generator, you know that the generator is backed with the Honda quality name. With Honda, you purchase craftsmanship and the reliability that is built into all Honda products. The Honda brand has a reputation for utilizing high quality materials in the manufacture of all products.
Regular maintenance on your Honda Generator will sometimes require replacement or repair of parts. Honda recommends genuine OEM parts to ensure quality and compatibility. www.hondalawnparts.com has a user friendly online parts lookup tool that makes ordering Honda parts easy.