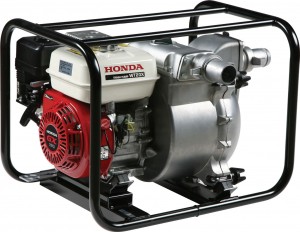 If you need a pump, Honda probably makes something to fit your needs. Which type of water pump is right for you? It depends on where the pump is used and the type of water that needs to be moved. Here's what you need to consider when choosing a pump.
Types of Pumps
Honda makes pumps in four general categories, each with a specific purpose in mind.
De-watering: These pumps are built to handle clean water with debris up to 3/8 of an inch in diameter, which is the size of a marble. Models include the lightweight WX, general purpose WB and high-pressure WH.
General purpose: The WMP20 is the only Honda pump approved for industrial and agricultural chemicals. It comes with a housing and seals designed for chemical resistance, but it can also be used to pump water.
Construction: These pumps are built for high volume applications and water with high solids content. WT trash pumps are basically beefed-up de-watering pumps, capable of handling solids up to two inches in diameter. That's between the size of a golf ball and a billiard ball. The WDP diaphragm pump is built for severe conditions. It can pump water with up to 25% debris content and with solids up to 2.4 inches in diameter, and it won't overheat if run dry.
Submersible pumps: These electric pumps are perfect for fixed locations. They're fitted with float switches, activating the pump when the surrounding area starts to flood. The WSP50 and WSP100 are trash pumps, while the other models are de-watering pumps.
Choosing a Pump for Removing Water
To match the pump to your application, you need to consider both the amount and size of debris in the water. These are general guidelines for common applications:
Clear, silt and slimy water – All pumps
Muck water – All models except WSP submersible
Slow seepage – WDP diaphragm pump
Fast seepage – All models
Manholes and cofferdams – All models except for WX lightweight de-watering pumps
Quarries: WH high-pressure de-watering pumps, WMP multi-purpose, WT trash and WSP submersible
High solid content: WT and WDP construction pumps or WSP50 and WSP100 submersible trash pumps
Deep piling: WSP submersible pumps
Industrial and agricultural chemicals: WMP multi-purpose pump
Choosing a Pump to Supply Water
Water used to supply equipment is usually clean or almost clean, so the main consideration is flow rate. These are general guidelines for common equipment and applications:
Mixers, pavers, concrete curing and non-potable water wagons – WB general purpose de-watering, WMP multi-purpose and WT trash pumps
Sprinklers and nozzles – WH high-pressure de-watering pumps
Fountains and garden irrigation – WSP submersible pumps
Head and Flow Rate
Head is the vertical distance the pump can move water. This is divided into suction head, the maximum height at the end of the intake hose and the intake of the pump, and discharge head, the height between the discharge port and the end of the discharge hose. Submersible pumps draw water in from the bottom of the pump housing, so they only have a discharge head.
Quoted flow rates and head are under ideal conditions. The actual flow rate will decrease as head increases, and both head and flow rate will decrease as hose length increases. The suction head is controlled by surrounding air pressure: quoted lift is at sea level, while real world lift will decrease by about a foot for every 500 feet of elevation. Chemicals and trash-filled water can be heavier than clean water, which further decreases pump rates.
To take the confusion out of selecting a pump, Honda offers a free program called "Pump Select." Once you give the program information about your operating conditions, it can recommend a pump that will best fit your needs.
Getting the Parts and Accessories You Need for Your Honda Pump
Hondalawnparts.com has more than just lawn equipment parts: we carry everything for Honda engines and power equipment, including pumps. We have a section dedicated to pump accessories so you can put together the hoses and filters you need for your application, or you can find OEM replacement parts by selecting your model and serial number. Our site has built-in factory parts diagrams and descriptions to help you find what you're looking for. We ship across the U.S. and Canada.