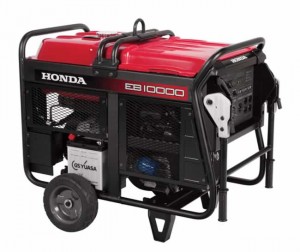 While the proliferation of Lithium-Ion technology has made portable tools a more viable choice in construction, there's plenty of equipment that needs AC power. To serve these users, Honda makes the EB-Series of generators. They're built for the demands of commercial and rental use, are offered a range of outputs, use low noise designs and are OSHA compliant. How do you know which one is right for you? Here's what you need to know to work out your use case.
How Many Watts Do I Need?
As a general rule of thumb, Honda recommends a 2,000 watt generator to run a single tool, 3,000-4,000 watts to run two tools and over 4,000 watts to run several tools. However, your specific use case can vary a lot depending on the equipment that will be drawing power from the generator.
The easiest way to calculate the power needed for a tool or appliance is to check the data tag, usually located on the body of the device. If this tag has worn off, the same information can usually be found in the owner's manual, or measured using an appliance load tester. To convert amps into watts, multiply the rated amps by the voltage, either 120 or 240.
Electric motors create a "reactive" load, requiring a lot more power when they start than when they run. To compensate for this, Honda's generators have a maximum load capacity that can be sustained for a few seconds to help deal with these load spikes. Devices with these loads include air compressors, power tools, grinders and pumps. Manufacturers of commercial equipment will usually state both the starting and running power in amps or watts on the data label. Some labeling systems use a letter to indicate the starting amps per horsepower:
A – 26.0
L – 83.3
B – 29.5
M – 93.3
C – 33.3
N – 104.0
D – 37.4
P – 116.6
E – 41.6
R – 133.3
F – 46.6
S – 149.9
G – 52.4
T – 166.6
H – 59.0
U – 186.6
J – 66.6
V – Over 186.6
For example, if you have a ¼ hp drill press with a "P" code, it requires 29.15 amps to start or 3,498 watts. If there is no code or second number, assume the starting power will be three times as much as the running power.
When calculating power demands, remember that you probably won't be turning all your devices on at the same time. The generator you buy should be able to support all the equipment you may be using at one time plus the highest single reactive load for your equipment.
Can I Power Electronics with an Industrial Generator?
Inverter generators including CycloConverter models like the EB3000c create a clean power waveform, making them safe to use with electronics as well as tools with computerized control systems. This means you can use them to power Li-Ion charging stations, computers, and radios.
Can I Power Three Phase Equipment with a Generator?
No. While most EB models can provide 240-volt power, this electricity is single phase, switching fully between negative and positive polarity. In a three phase system, three power waveforms are combined, keeping the polarity fairly steady. Welders and some large electric motors need three phase power to work properly.
NFPA and OSHA Compliance
OSHA establishes what needs to be done to ensure a safe work environment, while the National Fire Protection Agency (NFPA) regulations handle how those standards are met when involving fire safety. NFPA rules also apply outside of work use. For generators, these standards bodies come into play in two ways:
OSHA has specific requirements for generators used in the workplace covering fire safety, grounding and circuit protection. The NFPA issues rules for fire compliance to meet OSHA's requirements. All Honda EB Series generators are OSHA compliant.
The NFPA issues guidelines for using generators for emergency backup power for all users, commercial and private. All Honda generators comply with NFPA regulations if they're installed and used correctly.
Full compliance requires correct usage of the generator, which includes keeping it outside of buildings and away from walls to prevent carbon monoxide poisoning. When adding a generator to your equipment, you'll need to have a way to get that power to the work area via cables and weather protection to prevent shorts from rain.
Getting Parts and Accessories for Industrial Grade Honda Generators
Hondalawnparts.com is a certified Honda Power Equipment dealer, so we can offer OEM parts and accessories to keep your generator working including cables, transfer switches and load testers. Our massive warehouse lets us keep most popular parts in stock for fast shipping to any address in the U.S. or Canada.