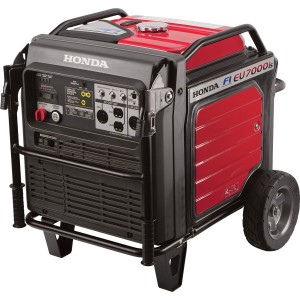 A Honda generator can keep power going when a storm cuts your home's connection to the grid so you can keep televisions, radios, and phones on to monitor the forecast while keeping a few appliances running for comfort. However, getting the generator up and running can be daunting during bad weather. With a little planning, you can make the switch from grid to generator power a lot easier.
Storage
Like any piece of small engine equipment, a generator needs to be kept in a cool, dry place. However, it also needs to be in a place that will be accessible during a storm, letting you position it where it can be used. That means carrying it or rolling it to a place that keeps it at least three feet away from buildings so that carbon monoxide from the exhaust won't reach lethal concentrations. Make sure you can easily move the generator from its storage spot to its operating spot, taking care of any obstacles that may be in the way.
Cords
Since you can't bring your generator into your home, you need a way to get power from it to the appliances you want to use. When shopping for extension cords, make sure to check the amperage: it needs to be at least as high as the maximum amp output of the socket it will be plugged into.
Larger generators include a twist lock outlet. This keeps the cord attached at the generator end when running long distances, but it also requires a special extension cord with the right end. The type of twist lock cord you'll need will depend on the power mode and attached appliances: all Honda generators can produce 120-volt power, while some have the ability to make 240-volt power for high-demand appliances and can even switch some outlets between 120 and 240-volt output. Cords are available with ends including multiple 120-volt sockets that use power directly, converter cables that turn 240 volts into 120, and 240-volt sockets for high power demand devices like water pumps. 120-volt power is fed through an inverter to get a clean waveform that's safe for sensitive electric devices, but 240-volt power comes directly from the generator and shouldn't be used for these devices.
Fuel
The fuel used in your generator should be no more than 30 days old, or 90 days old if it's been treated with a stabilizer. Instead of storing fuel just for the generator, keep some fuel on hand for the generator and other power equipment including mowers and lawn care tools so it's used up quickly. Honda's generators can run for several hours on a tank of gas, so one full tank should be enough to keep appliances going until the power is restored or it's safe for you to leave your home and buy more fuel.
Oil
Honda's Oil Alert system will shut down the engine to prevent it from being damaged if there isn't enough oil, but that also means your generator won't be able to make power. Keep some extra oil on hand and check the oil level before moving the generator out of storage.
Linking the Generator to Your Home Wiring
Your generator can feed into your home's electrical system directly using a transfer switch. This device is required by law when linking a generator to home wiring because it isolates your home from the grid. Without this switch, power can enter the grid, shocking workers who are trying to repair the lines. This switch needs to be installed by a professional electrician to make sure it's working correctly. Once installed, the generator can be moved to the switch and plugged in so it can supply electricity when the power fails.
Keep Your Generator Running with Genuine Honda Parts
As a certified Honda small engine equipment dealer, www.hondalawnparts.com carries everything you need for your Honda equipment. Along with replacement parts for your generator, we carry genuine Honda accessories including transfer switches and cable adapters so you can rest easy knowing you'll be ready when storms strike. We ship across the U.S. and Canada.