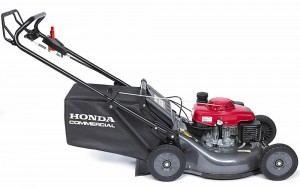 While the commercial market is dominated by riding mowers with massive decks and engines, walk-behind mowers are still a necessity for trimming hard to reach areas. Honda's HRC mowers are designed for these users, integrating professional level quality and riding mower features into a walk-behind. The latest model in this lineup is the HRC216HDA, which bridges the gap between the push PDA and hydrostatic drive HXA.
Engine
The HDA is powered by a GXV160 engine. It has a dual element air cleaner which has a reusable foam element that stops larger debris, providing a longer life for the inner paper filter, while the Oil Alert system prevents the engine from running if it doesn't have enough oil, preventing damage to internal components. A fuel shutoff valve is included to keep the carburetor from flooding during transport, maintenance, and storage. On this model, it comes with a manual throttle, letting you bring the motor down to idle so you can keep it running while emptying the clipping bag.
Deck
The motor sits on a 21-inch deck made out of 16 gauge steel with rolled edges like you'd find on a stamped riding mower deck. A large front bumper protects the deck from scrapes and impacts and provides a tie-down point so the paint doesn't get scraped up when loading the mower on a truck or trailer.
The deck uses Honda's MicroCut twin blade system, slicing grass twice with each pass. This design creates an excellent finish and can handle mulching and bagging in conditions that would bog down other mowers; Honda is so confident of its performance that they make side discharge an option since most users won't need it. The deck can be set to one of 8 mowing heights ranging from ¾ to 4 inches, while the onboard bag can carry up to 2.5 bushels of clippings before being emptied.
Drive System
The HDA has more in common with a riding mower than just the deck: it also uses a hydrostatic transmission. Using the handle-mounted lever, the forward speed can be set to anywhere between 2.1 to 4 mph. The cruise control function lets you keep the speed set when shutting off or idling the mower: once you close the bail, the mower will return to its original pace. If you need to make a short stop to pick up branches or empty the bag, the flywheel brake engages as you leave the handle, stopping the blades immediately for safe stops without shutting off the engine.
Maintenance
The transmission is connected to the engine by a shaft drive, so there are no belts to replace on this mower. Sealed, adjustable cables are used for the controls for years of smooth action. The wheels are made out of Honda's super durable NeXite polymer and ride on sealed ball bearings. These features make servicing the HDA more like a push mower, eliminating everything aside from engine maintenance and blade sharpening.
Warranty
Honda warranties the mower for one year of commercial use, while the engine is guaranteed for two years. For residential owners, the mower and engine are both covered for two years.
Servicing and Parts
Getting parts for maintaining and repairing the HRC216HDA is easy: just visit www.hondalawnparts.com. We're a certified Honda Small Engine Equipment dealer, which means we offer OEM replacements for everything Honda from portable generators to professional mowers. Our site makes finding the right part easy by showing factory parts diagrams and descriptions so you can quickly identify what you need, and we can ship those parts to any location in the U.S. and Canada.