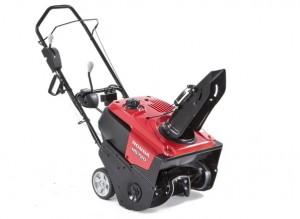 Honda may make large commercial quality snowblowers, but that doesn't mean they've left the residential market behind. The HS720AA and HS720AS single stage snowblowers deliver the innovation and reliability you expect from a Honda product.
Serious Snow Clearing Power
These models have a maximum 20-inch clearing width and can handle snow up to 12 inches deep. More importantly, these models can move up to 1,800 lbs. of snow per minute, which is up to four times the rate of similarly sized equipment in this segment. This lets the snowblower use more of its capacity with each pass, even when picking up dense snow, saving significant time on jobs.
Drive systems are heavy and expensive, so to keep costs and weight down, Honda came up with a novel solution to provide self-propulsion. The auger blades have rubber paddles mounted on them that sweep up the snow, then grip the ground as the roll pass, pulling the snowblower forward. While it doesn't completely eliminate pushing, it decreases the force to move the snowblower significantly. Turning is easy, too, thanks to a weight of just 89 lbs. for the AA and 93 lbs. for the AS. That's about the same as a basic push mower.
The auger is surrounded by a metal housing, while a plastic housing protects the engine and other components from snow and ice.
Easy Starting
Both models are powered by Honda's own GC190, a popular engine for everything from pressure washers to agricultural equipment. It comes with an automatic decompression system to make the engine easier to turn over for quick starts. Go for the AS and you'll get a 120-volt electric starter. Just plug the box on the handle into a three-prong extension cable and push the button, and an electric motor will start the engine for you. If there's no power access handy, the engine can still be pull started.
Easy Operation and Servicing
The single auger can push snow through the chute to drop it at a distance of up to 33 feet. This chute uses Honda's Snow Director, allowing pitch and angle to be operated using two handle-mounted levers while in operation so you can keep the snow going exactly where you need it without having to stop to make adjustments.
Controls and service points are easy to access. The ignition switch, choke, starter grip, dipstick and oil drain plug are all located on the rear of the unit, while the spark plug and fuel tank can be accessed from the top. All controls are oversized to be easy to operate while wearing gloves.
Warranty
Honda covers the entire snowblower including the engine for two years of residential use or three months of commercial use.
Getting Parts for Honda Snow Blowers
Whether you need to keep some shear pins and belts on hand or make a few repairs to your Honda snowblower, you can find everything you need at www.hondalawnparts.com. We offer the full line of OEM Honda Power Equipment parts, and we can ship these parts to any address in the U.S. and Canada. Not quite sure what you need? Our site can find parts based on your model and serial number and will show you factory descriptions and parts diagrams so you know exactly what you're ordering.