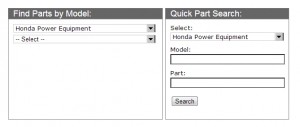 When a piece of Honda equipment breaks down, the last thing that most consumers want to do is spend hours, or even days, navigating product manuals and websites in order to find the appropriate replacement part. Luckily, with the Honda parts lookup tool, which can be found on the website www.hondalawnparts.com,  this headache can largely be avoided. By following a few simple steps, those consumers who own a Honda can easily research parts based on serial number, model number or other search criteria. Headaches are eliminated, parts are easily located, and they're quickly shipped to consumers in need.
Know Your Model Number? Eliminate Some Steps
For most consumers, the exact model number of their Honda product is something that's easily misplaced or forgotten. For a select few, however, this number seems to be easily memorized. For those buyers who do remember the exact model number of the equipment that requires a replacement part, the Honda parts lookup tool will be even easier to use.
Simply navigate to the first page of the Honda parts lookup tool itself, and then make sure that "Honda" is selected within the "Brand" drop-down menu. If it is, then the next two boxes will be easy to fill out. Those boxes will require the model number and the part name or the serial number of the part that needs to be replaced.
Once all of this information has been entered into the parts lookup tool, consumers can simply hit the "Search" button. In a few moments, the website will return a full listing of all parts that match the criteria entered on the lookup page. Parts will be listed with their titles, descriptions, and price points, making it easy for consumers to make a buying decision in very little time.
Without a Model Number, a Different Way to Secure Replacement Parts
For those consumers who don't know the model number of their Honda equipment from memory, another option is probably better than the standard search tool. In the interest of user friendliness, a second area within the Honda parts lookup tool actually allows consumers to browse all available builds and models of Honda equipment offerings. They can then choose the best model number for their needs and peruse a list of replacement parts specific to that model number.
The process begins on the same page as the Honda parts search. Instead of using the search option, located on the left, consumers should look to the right-hand side of the page in order to peruse drop-down menus full of available parts. First and foremost, the brand will need to be set as Honda. Then, consumers will need to select the brand and model number of the Honda equipment requiring a replacement part.
After the proper model has been chosen, the lookup tool will present a list of applicable replacement parts and serial numbers. Simply select the most relevant part or serial number and click "Submit." The lookup tool will process the information given to it by the consumer, and it will return a list of parts and prices based on the input.
Additionally, if you are in need of non-specific Honda Accessories, such as Leaf Shredder Accessory, Honda Spark Plug. The website provides the ability to search for these parts.
A User-Friendly Way to Keep Things in Working Order
The most important thing to know about the Honda parts lookup tool is that it's easily one of the best ways to navigate replacement parts, model numbers, serial numbers, and parts diagrams. Unlike many other websites, which simply list all available parts regardless of model number, the lookup tool allows consumers to sort their output based on very specific input.
Best of all, the utility operates as a sort of expert on all things Honda. While a website full of unsorted parts can certainly get the job done, only the lookup tool can recommend the right parts for every specific engine or other piece of equipment produced by Honda. It's like talking with an expert salesperson each time a new part needs to be purchased. Consumers will get the benefit of that expertise without waiting in a long line at their local authorized dealer, and without calling a customer service line that places them on hold for several minutes at a time.
With the lookup utility, it's easy to get access to expert product listings that can meet every need, helping consumers get back on the job far faster than they would have been able to under any other circumstance.
Needing a Replacement Part is No Longer a Challenge
There was a time when a broken piece of Honda equipment could mean days or weeks of downtime, pushing back deadlines and inconveniencing both clients and workers. That is no longer the case, thanks in large part to the product search tool that allows for easy discovery of affordable, proper replacement parts for Honda machinery.
Next time something goes wrong, be sure to turn to the Honda parts lookup tool. It promises to make the repair process quick, easy, and knowledgeable.