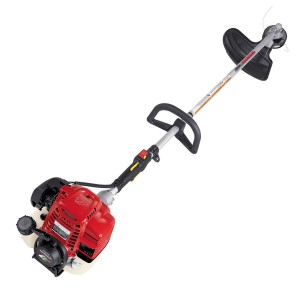 String trimmers have to be small and light, forcing manufacturers to make compromises on usability and reliability. However, Honda has managed to address those issues with their own trimmers. Built around their compact four stroke engines, these trimmers have operator-friendly features and a long list of accessories to take the frustration out of yard work.
Mini 4 Stroke Engine
Tightening emissions laws mean the two-stroke's days are numbered, but there are plenty of reasons to choose Honda's Mini 4 Stroke over a two-stroke aside from its low pollution design. A clever oil baffle system keeps the engine lubricated in any position, so they can be used and stored like a two-stroke. Since it still has an oil sump, straight fuel can be used to power the engine instead of oil and fuel mixtures.
The valves seal the combustion chamber when the air and fuel ignite, making the engine much quieter.
Intake and exhaust cycles are also separated, so fresh fuel doesn't flow straight out of the engine. This improves fuel efficiency up to 50%. This also helps the engine is getting the exact mix of air and fuel it needs, making it easier to start. Torque is produced over a wider RPM range, so these trimmers don't bog down as easily as two-stroke models.
Trimmers
Honda's trimmer models use a loop handle that lets the operator switch hand positions for less fatigue. A single strap harness and safety glasses are included. The HHT25STLA comes with a 25 cc engine, weights 13.1 lbs. and uses a Semi-Matic bump head to cut a 17-inch swath. The HHT35STLA is similarly equipped, but it uses a 35 cc engine and weighs 14.8 lbs.
Brushcutter
The HHT35SUKA comes from the factory with everything you need for brushcutting, including a double harness, a debris barrier, and a 10-inch saw blade. A Kwik Loader head is also included for string trimming, cutting the same 17-inch swath as the standard trimmers. This model also uses a wide bicycle-style handle makes the brushcutter easy to control while minimizing kickback. The UKA is powered by a 35 cc engine and weighs just over 16 lbs. with the cutting head installed.
VersAttach
There are plenty of landscaping jobs that can benefit from motorized power, but it doesn't make much sense to have a piece of equipment that will only be used a couple times a year. With Honda's VersAttach system, several tools can be attached to a single power unit, reducing cost and maintenance. Compatible tools include an edger, trimmer, pruner, hedge trimmer, cultivator, and blower. Extensions are also available to increase the unit's reach.
Most buyers will find they get the most use out of the trimmer attachment. It comes with a bump head and cuts a 16.5-inch swath. Safety glasses and single harness are included. Honda offers a three tooth grass blade for light brush, but there's no provision for larger blades, nor can these units be fitted with a double harness.
Power units include the 25 cc UMC425 and the 35 cc UMC435. All VersAttach tools are compatible with both models.
Accessories
Honda offers three, four and 8 tooth grass/weed blades in 9 and 10-inch sizes as well as a 24 tooth brush blade for the HHT25 and an 80 tooth brush blade for the HHT35. These blades are also compatible with the HHT35UKA brushcutter. When using a metal blade on a trimmer, a barrier kit should be installed to deflect debris, while a double sling is recommended to give the operator better control of the trimmer's position.
The heads on these units are compatible with several trimmer heads including the Kwik-Loader and Prolux's manual and semi-manual heads.
Warranty
Honda guarantees their trimmers and Mini 4 Stroke engines for two years residential or one year of commercial use. The flex shaft, which transfers power from the engine to the head, has a limited lifetime warranty.
Get the Parts and Accessories You Need Straight from Your Browser
As a certified Honda Power Equipment and Honda Engines dealer, www.hondalawnparts.com is able to offer the full range of OEM parts and accessories for these trimmers. Our site has built-in factory parts diagrams and descriptions, and you can search for parts based on your equipment's engine and serial number. We ship across the U.S. and Canada.