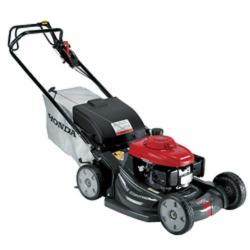 Keeping your yard beautiful and well-groomed requires regular maintenance, and that means owning tools you can rely on. Although Honda is better known for its stylish cars it also produces many other vehicles, including outdoor power equipment. The HRX line is Honda's masterfully engineered take on the self-propelled lawn mower and offers several modelsat varying prices to suit every homeowner's needs and budgets. The three HRX mowers currently in production are at the cutting edge of lawn-care, featuring all of the latest technology meant to make mowing easy, precise and faster than ever. 
Perhaps the most notable aspect of the HRX line is its efficiency. All three models use four variable-height blades to shred grass into minuscule pieces, which take up less space and allow up to 40% more ground to be covered before emptying the bag. Those who prefer to mulch will be happy to find that the Honda HRX Series Lawn Mowers can easily be converted to either full mulching or a combination of the two modes. The smaller clippings and regulating technology prevent unsightly clumps left behind by so many other mowers. That fine cutting also means that these mowers can handle leaves in the fall, effectively making them two tools in one versatile package. And, as befits a mower in this price range, you can rest assured knowing that all of the materials are high-quality and resistant to rust. The Honda GCV190 engine has been specifically designed for easy starts and durability.
All of these features are available with every model, which may leave you wondering what else distinguishes the three. The base model, the HRX217VKA, is a superb piece of technology in its own right. If you are looking for something more, however, the HRX217HYA and HRX217HZA both manage to turn mundane yard-work into an almost recreational activity.
The HRX217VKA
The HRX217VKA is best suited for casual homeowners who aren't interested in lugging around a clunky, difficult mower. Its handles offer variable speed control and are also designed to safely turn off the engine when the brake lever has been released. It's tough enough to power up the steepest of inclines and yet light enough to make steering and reaching those difficult spots a breeze.
The HRX217HYA
The HRX217HYA is one step up from the HRX217VKA thanks to improved technology. Instead of forcing its user to continually grip the handles, this model offers a precise cruise control function between zero and four miles per hour. If your natural walking speed is 2.8 mph, simply set the mower and go. Additionally, this model allows you to stop the blades without having to shut down the engine. This can save a significant amount of time for yards that are large enough to fill multiple bags or have plenty of debris to be moved out of the way.
The HRX217HZA
Finally, there is the top-of-the-line HRX217HZA. Along with all of the features described previously, this model comes with an electric starter that will perform flawlessly for up to 300 starts before needing to be recharged. No more breaking your back in the hot sun with the HRX217HZA. It is one of, if not the, best self-propelled lawn mowers on the market and Honda has done everything in its power to ensure that cutting the grass with it, is much more than just another chore.
Although they are the product of the finest Honda engineering, even an HRX mower occasionally needs some repairs. Blades and belts are the most commonly replaced parts. Blades see constant wear and may be damaged after hitting rocks or other items, while belts grow weaker with age and can snap if left for too long. Other common culprits in malfunctioning mowers are cables damaged by intersecting parts, clogged filters, and worn-down pulleys. Once one part has gone, the rest will be damaged by less than optimal conditions, so don't delay after you notice something wrong.
If you need parts for your Honda HRX, visitors can rely on a specialist like HondaLawnParts.com to supply them with genuine Honda parts. With such dedicated and comprehensive providers, investing in quality is the smartest decision you can make for your lawn.