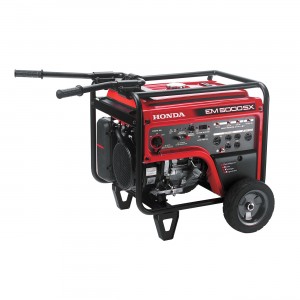 Honda has long been respected for its generators, which are in use at homes and businesses around the world. With the winter months in full swing, their utility becomes even more apparent for major businesses with heavy equipment that could become significantly damaged when exposed to extreme cold and other conditions. For those in heavier industries, the company offers its EB5000 and EB6500 generators for use. Both are powerful, long lasting, and able to easily adapt to virtually any commercial environment.
Features: The Difference Between Honda and its Competitors
There is a universal commitment to quality, durability, and performance at Honda that is just not found at very many other companies. This can be seen in the unique technologies that are bundled with both the EB5000 and the EB6500 models. Both generators come with its iAVR technology, standing for Intelligent Automatic Voltage Regulation. This makes sure that no surges make into the building, damaging equipment.
Both generators come with a switch that can output power at either 120 volts or a 120/240-volt split, and both models start up with 7,000 watts of power that is designed to instantly turn on the largest equipment in a commercial facility. Beyond these similarities, though, some differences do begin to emerge in terms of power, performance, and longevity, for both models.
Each Generator Has a Distinct Feature Set All its Own
While the company's EB5000 and EB6500 models are united by their technology and versatility, they're separated by the power they offer to commercial customers and the length of time they can last on a single tank of fuel. As should be expected with any generator for any use, the company segments its product line by engine power, total voltage, and size, making it easy for customers of all kinds to purchase just the right amount of backup power for their own uses.
The EB5000 derives its model number from the 5,000 watts of continuous power that it can supply to business customers. At 50 percent capacity, that 5,000-watt rating can last for just more than 11 hours. At full capacity, the generator can run for slightly more than eight hours before it must be refueled. A 6.2-gallon fuel tank is included, as is a Honda iGX390 engine with 389cc of displacement. This model is perfect for smaller commercial enterprises that need long-lasting, highly regulated power in the event of a blackout.
For the EB6500, Honda kicks things up a notch in order to serve slightly more demanding business consumers who need a more powerful, longer-lasting generator than they would get with the EB5000. As indicated by the model number, this generator provides a steady 6,500 watts of power to business customers. That makes it better for those customers who have more large equipment and absolutely need that equipment to turn on.
With a 50 percent load, the generator can provide 10.5 hours of power to business customers, though that number decreases to just over six hours when a full load is encountered by the generator. A 6.2-gallon fuel tank powers the included Honda iGX390 engine, which is capable of 389cc of displacement. Generally, this model is perfect for high-powered businesses and those that need redundancy for all of their major equipment in a commercial facility.
OEM Parts: The Best Commitment to Quality
Though it might be jumping the gun, any generator purchased by a commercial business will eventually require some form of maintenance. Even if that maintenance comes in the form of an annual checkup, the generator will still likely require a few replacement parts so that it can function at its highest level when the power goes out. That leaves consumers with two options: Generic replacement parts or OEM parts made by Honda.
When it comes to ensuring the quality and durability of replacement parts, there is simply no comparison between OEM and off-brand parts. OEM parts are made by Honda, in its own factories, and live up to a seriously high test of quality and dependability. They are guaranteed to be compatible with the model that they are purchased for, which is more than can be said about many off-brand options on the market.
Choose Honda Lawn Parts for Generators and Replacements
With years of experience in the power equipment industry, HondaLawnParts.com is a consumer's best ally when it comes to finding the right generator, the right parts, and the right commitment to customer service. The website also offers a number of intuitive resources, including its parts lookup tool, for consumers to use when they need a replacement part and they need it fast.
With a firm commitment to Honda power equipment and engines of all kinds, consumers will find their best ally during and after purchase to be HondaLawnParts.com.