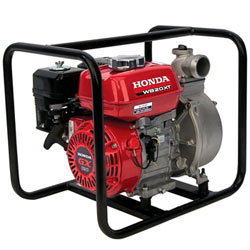 Winter is on its way, which means it's time to think about putting up your Honda water pump for the season. Depending on the model, that may mean removing a submerged pump from a well at a vacation home, stopping work on moving water between ponds or knowing that you won't need to worry about flooding until the snow melts off. No matter how you use your pump, there are a few things you should do to ensure your equipment will be ready to be put back to work next spring.
Before You Begin
Before working on the pump, disconnect the spark plug to prevent an accidental start. Give the engine some time to cool off before working on it: some parts of the engine including the head and exhaust can remain hot up to a half hour after the motor has shut off.
Running the pump without water, even on self-priming models, can cause the pump seals to overheat and melt. If you need to warm up the engine to change the motor or gear box oil, make sure the pump is shut off.
Cleaning the Pump
The pump chamber should be flushed with water using a garden hose. To ensure all water is drained from the pump, it should be tilted so that the discharge side of the pump is lower than the suction side. Never tilt the pump the other direction: while water may still flow out, this also tilts the engine in a way that will flood the carburetor. A few drops of water may still be inside the pump case, but this isn't enough to cause freeze damage, and there's no need to run anti-freeze through the pump for protection.
Electric Pumps
Ice can damage the pump, whether it forms on the pump body or on the power cable. If temperatures are going to dip below freezing, the pump should be pulled out of the well or sump where it's being used. While it's out, this is a good time to remove the impeller cover and clean out any debris.
Yearly Service
Servicing your pump now will save you from having to do so when you first need it next season.
If the pump has a separate gear box, the oil should be changed. The engine should be run for a few minutes to warm up the oil so it flows out easily. Refill the gear box with a GL5-rated 80W90 gear oil.
Some models have grease points for the pump connecting rod. In most cases, Honda recommends NLGI Category 2 grease. These components are shielded from water, so marine grease is not required.
The air filter should be inspected and cleaned. Remember that foam elements need to be re-oiled after cleaning and the air box should be wiped out before reassembly.
All nuts and bolts on the pump and engine should be checked for tightness.
Engine
Any fuel inside the engine should be removed before storage. Honda recommends draining fuel that is over a month old or three months old if it has been treated with a stabilizer. Some small engines like the Mini 4 Stroke may need to be tilted to let gas flow out of the tank, while other motors with a removable sediment cup will have a bolt on the base of the carburetor that can be removed to drain the entire fuel system. Either way, this fuel should be drained into a suitable gasoline container and disposed of properly. Using this fuel in your car is fine, as fuel injected motors are less sensitive to stale fuel and the fuel you add will be diluted by the fresh gas already in the tank.
If the engine has a fuel valve, set it to "Off" to prevent any residual fuel from leaking out during storage.
Have an electric pump? The motor shouldn't need anything outside of normal maintenance before storage, and it should be left alone to make sure it stays sealed off from water, which can cause a short or electrocution during operation.
Storing
Storing the pump indoors will help prevent damage from UV light and extreme temperatures. Since there may be a little fuel left in the motor, it's best to keep it stored away from ignition sources including power tools, furnaces and anything else that produces a spark or flame.
Keep the pump uncovered. If a tarp is laid over it, moisture can become trapped, promoting rust.
Getting Parts for Your Honda Pump
Hondalawnparts.com carries parts for everything from submersible electric pumps to trash pumps and everything in between. Our site makes finding what you need easy by letting you see factory parts diagrams and descriptions for your model, and we can ship those parts to any address in the U.S. and Canada.