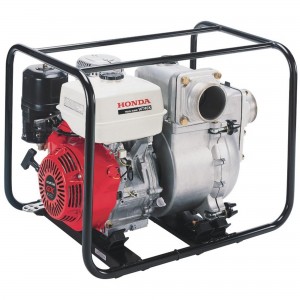 From powering fountains to cleaning construction sites, Honda makes a pump that will do the job. Which pump is right for your needs? Knowing how each design functions can help you narrow down your choices from Honda's 16 model lineup.
Flow Rates in the Real World
The flow rates below are in ideal conditions, but there are two factors that can reduce the actual flow rate once put in use:
The head, which is the difference in height between the end of the intake hose, the pump and the end of the outlet hose, will affect pumping performance. If all three points are at about the same height, the pump should work at the rated gallons per minute. If the height difference is high, say, when pumping water out of a well, the pump has to overcome gravity, reducing the flow rate.
When it comes to trash and chemical pumps, the fluid being moved may be heavier than water, which further decreases pumping speeds.
Before you buy a pump, check the detailed specifications to make sure the pump will be able to support the total head you'll need the pump to handle. If you need to maintain a specific flow rate, download Honda's free "Pump Select software". It can do the flow calculations for you and make model recommendations.
The gallon per minute rating may get the most attention, but the main factor when selecting a pump is its intended use:
Portable De-Watering
The WX Series is built for high portability with the WX10 weighing just 13 lbs. These models are great for occasional use for gardening, boat maintenance, and general household usage, moving between 32 and 74 gallons of water per minute.
General De-Watering
The WB series trades the WX's low weight for more pumping power. Commercial grade components including silicone carbide seals and anti-vibration mounts help with long term reliability. They can move between 164 and 290 gallons per minute.
Nozzles, Sprinklers and Long Distance Applications
The WH series is built for high-pressure applications while still being portable, making them a great choice for irrigation and fire suppression. These models can pump up to 119 GPM under pressures as high as 64 psi.
Chemicals
The WMP20 is designed with materials that resist corrosion and damage from a wide range of industrial and agricultural chemicals as well as salt water. Keep in mind that while it can handle both base and acidic fluids, it can't pump just anything: Honda keeps an updated list of approved chemicals on their site. This pump has a maximum flow rate of 220 GPM.
Trash, Debris, and Big Jobs
The WT Series is built for moving massive amounts of water that is mixed with solids up to 1 1/16 inches in diameter. A quick clean out port and design features for easy maintenance make these pumps more than up to the task of handling the demands of contractors and rental businesses. These pumps can move between 185 and 433 gallons of water per minute, although high trash content will reduce performance.
Severe Duty and Slow Seepage
The WDP30 uses a positive displacement diaphragm pump that can move water that contains up to 25% solids including mud and trash. This design can also run dry without harming the seals, while a rock channel in the volute case and spring-loaded connecting rod protect the components from impacts. That capability comes at a cost of pumping speed, limiting it to 80 GPM.
Fixed Locations
Honda's WSP electric pumps are powered by 120 AC current, making them a great choice in areas that have frequent need of pumping and have ready power access. These units have switches to pump automatically once the water reaches a certain level, and they're also set up so they can be put in continuous use. Electric pumps are great for draining water from tanks and containers including pools and hot tubs as well as removing seepage in basements and powering fountains and garden irrigation systems.
Most models are designed for plain water, but the WSP 50 and 100 models are both trash pumps, able to handle solids up to two inches in diameter. Pumping speed ranges from 40 to 150 gallons per minute.
Servicing and Accessories
Need to fix your current Honda pump or replace the hoses? Hondalawnparts.com has everything you need. As a certified Honda Power Equipment dealer, we carry parts and accessories for all of Honda's small engines and equipment. Our site makes it easy to find the parts you're looking for by integrating factory parts diagrams into our search engine so you can see where the part fits on your pump. We ship across both the U.S. and Canada.